It's officially November, y'all. The leaves are turning crisp colors. My closet is full of cozy sweaters, and Sundays consist of football and slow-cooker recipes. Which brings me to my favorite part of the month. Thanksgiving.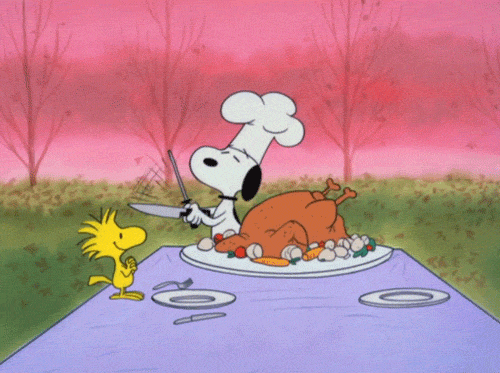 You may be wondering, "Wait…what does Thanksgiving have to do with call center software?" Hear me out. A lot of different things go into creating a memorable Thanksgiving meal such as your main course, savory sides, and delicious pies. Similarly, there are a lot of variables that go into building a great call center, including many types of call center software. 
And, just like my Thanksgiving plate may look different from the person's sitting next to me, your favorite call center software choices may be a little different than those of another call center leader. That's OK. At the end of the day, it's important to choose the tools that work best for your team's specific wants and needs. So, now that I have you practically drooling, here are just a few different call center software "menu" options that we recommend checking out.
Call Management Software
Did you know that nearly 80% of customer service interactions still take place over the phone? That's exactly why it's important for call centers to use some type of calling software. 
Call management software, also known as call handling software, helps companies effectively manage both inbound and outbound calls by routing, monitoring, queuing, and even recording calls. In a world where customer satisfaction strongly depends on how easy they consider their interaction to be, calling software equips teams with the infrastructure they need to effectively track and transfer calls while keeping the customer in mind.
Ticketing Systems
To put it simply, ticketing systems help companies manage service and support cases. Ticketing programs collect all customer support requests or support tickets, from various channels and store them in one, convenient location. Then they're automatically logged, prioritized, and queued for completion by agents. This type of software is important because it allows agents, and entire call center teams, to better assess and resolve tickets in an organized manner. This means better resolution times and improved first call resolution rates, which are vital metrics for successful call centers. While it may be tempting to turn to a free call center software tool to do this job, we're fans of Zendesk, Help Scout, Gladly, freshdesk, and Kustomer—just to name a few. 
Workforce Management Tools
Every minute is important when it comes to great customer service. Workforce management tools help call centers achieve and maintain operational efficiency during every minute of every business day. This is done by ensuring that the right agents with the right skills are staffed at the right time. Depending on what tool you choose, there could be a dozen different features available. However, the core components of this type of inbound call center software include call volume predictions and forecasting, shift scheduling, tasks, and an employee portal for agents. This may not be the best choice of call center software for small businesses to use since they likely have a smaller team, but it is very beneficial for larger teams who have to manage various schedules and a large number of customer interactions. 
Quality Assurance Software
Call center quality assurance (QA) is designed to help call center leaders evaluate the performance of their customer service agents. This is crucial for every call center as it impacts both customer satisfaction and employee engagement. Call center leaders use this type of  cloud-based call center software to assess agent performance during live or even recorded calls, provide feedback and coaching, and increase productivity. QA tools like MaestroQA, provide an efficient way to close the feedback loop so call center agents can get a little bit better at their jobs every single day. 
Call Center Training Software
Work knowledge and best practices for your agents is everywhere—in documents, binders, PowerPoint presentations, and even inside the heads of your call center teammates. Enter call center training software. This type of software enables customer support leaders to create and deliver a call center training program online instead of pulling agents off the floor for in-person training sessions. Agents crave ongoing training and development, and call center training software, like Lessonly, empowers them with the knowledge and skills they need to deliver exceptional customer service and do Better Work. 
Now that you've got a taste for all of your call center software options, it's important to remember that every tool has its benefits and disadvantages. So, before you bite off more than you can chew, we recommend creating a wish list of features and capabilities you're looking for. Take the time to check out some free demos, call center software pricing guides, and review sites to help make the right decision. Trust me, by taking a little extra time to do some research, you'll likely find a solution that your agents will be thankful for—just like I'm thankful for pumpkin pie. 
Give thanks for Lessonly in your call center tech stack 💛
Lessonly's modern call center training software is essential to any world-class call center. Companies like Thrive Market, U.S. Cellular, and Ibotta use Lessonly to deliver call center training programs that result in amazing customer care and satisfaction. Want to see how your organization could benefit from Lessonly? Click on any of the tiles below to learn more about us!