The internet is chock-full of customer service thought-leaders, writers, and gurus. Most people don't count musician John Mayer among them, but this past week, Mayer took to Twitter to share an idea for call center leaders: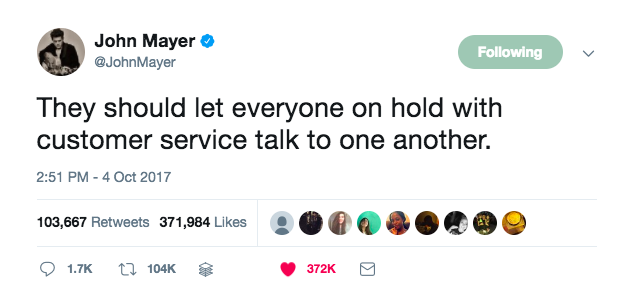 Although his tweet was comical in nature, it does hold value for call center reps—hundreds of thousands of retweets and likes prove that Mayer struck a chord in the hearts and minds of customers everywhere. The prudent call center leader should look for the deeper lessons in Mayer's tweet.
Waiting on the Call Center World to Change
First and foremost, Mayer's tweet communicates the rampant dissatisfaction with the customer support industry. Call centers get a bad rap for long hold times, subpar ticket resolution, and generally lackluster service. At Lessonly, however, we've worked with some phenomenal companies who are determined to provide a wholly different experience for their callers. These forward-thinking teams are creating customer service training modules that inspire better agents and lead to happier customers.
Actually opening up the hold line for hundreds of customers to talk is impractical—it might not be the best advice Mayer has ever offered. Regardless, here are three lessons derived from Mayer's tweet that call center leaders should ensure are part of their customer service training materials.
Empathy—Agents, be Good to Your Callers
Mayer's tweet, if put into action, would create a way for callers to connect, and connection is integral to a great customer experience. Call center reps who demonstrate care and understanding will win over the hearts and minds of customers. Our friends at InsightSquared agree, noting, "Customer service can't always deliver solutions, but it can always deliver empathy."
Every call center training guide should include a section on practicing empathy and demonstrating kindness towards callers.
Manufactured scripts with canned statements like "I'm sorry to hear that" isn't good enough. Customers want to feel like the agent on the other end really hears them—and cares about their issue. Use customer service training exercises or role-playing to practice authentic empathy with your customer support team, including the most frustrating of callers.
Efficiency—Slow Holding on a Burning Line
Sitting on hold for an extended period of time is the bane of the call center customer experience. No one wants to waste their time listening to elevator music—they want to talk to a human being. Minimizing hold times should be an essential focus for every call center leader. When resources don't allow for shorter hold times, try to make up for lost time with highly-efficient customer support reps.
A few weeks ago, I called a major furniture retailer and sat on hold for 11 minutes before talking to a support rep. Once I explained my problem to the rep, I was placed on hold for another 38 minutes before resolution. While initial hold times might be an unavoidable reality, once the agent gets on the phone, try to solve the problem as quickly as possible. Basic customer service training content should encourage reps to resolve issues as quickly as possible, or at a minimum, continue updating the customer regularly throughout extended processes. Talking to an efficient call center rep after a long hold could be the difference between a furious user and lifelong advocate.
Talking to an efficient call center rep after a long hold could be the difference between a furious user and lifelong advocate.
Experience—Great Service is a Wonderland
Great service is hard to find. Many companies and call centers are content with the bare minimum for customer service, but a new breed of organizations is realizing the immense business value of a radically fantastic customer experience. Just Google companies like Zappos, Nordstrom, or Southwest to get a picture of the lengths their reps will go to ensure that a customer leaves feeling happy.
When designing a customer service course outline, make it abundantly clear to the new hire exactly what is expected of them. Is their aim to resolve tickets as quickly as possible, or to solve them as thoroughly as possible? The answer to this question should result in very different business KPIs, employee hires, and work cultures. Use your training plan to reinforce the type of customer experience you want to cultivate, and remember that while actively managing the customer experience may seem less efficient in the short run, doing so will pay remarkable dividends in long-run brand loyalty.
Let's call a spade a spade: John Mayer might not be the best co-author for your next customer service training manual. But encouraging empathy, efficiency, and a radical focus on the customer experience are worthwhile endeavors. A contact center—and a brand—that champions these ideas will build a dedicated, happy, and ever-loyal fan base.
There's No Such Thing as Training Software Like Lessonly
Lessonly helps customer support teams cultivate faster response times, more engaged employees, and happier customers. Our training software helps forward-thinking organizations like Smart Rhino—and hundreds of other support teams—deliver amazing service. Find out if Lessonly could improve your support team, and take a tour today.