World-class support teams separate themselves from the pack by reducing the time-to-productivity of their seasonal hires. Given the cyclical nature of peak-season hiring, improving these reps' onboarding and training isn't a one-time bonus; it's necessary for providing the level of service that customers expect. The benefits of better onboarding and training might seem abstract, so the graph below illustrates the productivity of two seasonal hires, each with different training.
Ollie and Follie are brothers, both starting seasonal customer service jobs. Ollie (blue line) joins a company who onboards him with a mix of online and in-person training. After his first week of onboarding, Ollie is tasked with 5 daily support tickets for the next two weeks before reviewing of performance. Thanks to solid onboarding, Ollie handles his 5 tickets with ease and high satisfaction scores, and his daily quota is raised to 10 tickets. Ollie continues to exceed expectations and, within a few weeks, is fully ramped with a quota of 25 daily customer tickets to resolve.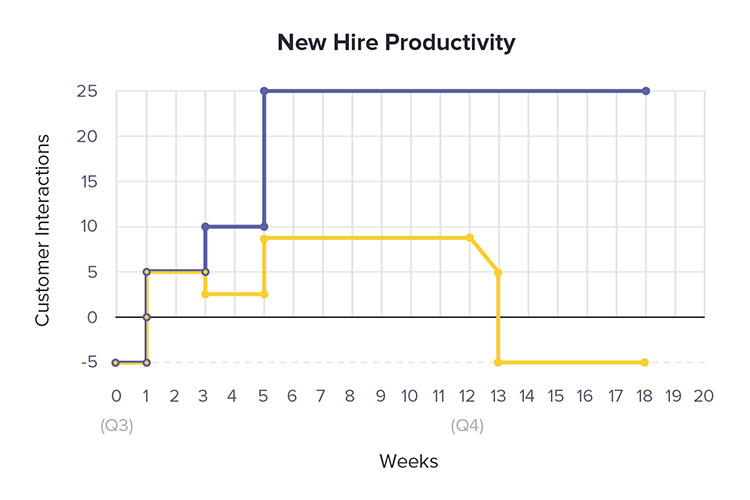 After his initial week of onboarding, Follie (yellow line) is tasked with 5 daily support tickets for the next two weeks before reviewing of performance. At the two-week mark, Follie has not been adequately meeting his KPIs, so his quota is reduced to 2 tickets per day. By the end of their first month, Ollie has resolved hundreds of customer issues while Follie is still struggling to find his footing.
"If you give somebody a chance to do the right thing early in the game, just coach them. Make it a strong onboarding process. One of the things that's really important is that your support rep has confidence that they themselves are capable of doing a good job."  — Shep Hyken
The underlying fact is that good onboarding can reduce time-to-productivity for your new hires. And that productivity applies to metrics other than support tickets. Improving onboarding is an investment in cutting costs, customer service, and employee turnover.
TravelOutlook Uses Lessonly to Reduce Ramp Time
Before adopting Lessonly, TravelOutlook's all-virtual team struggled to successfully onboard new employees. In an industry which focuses on exceptional customer service, TravelOutlook knew that investment in training was essential.
In the past, new hire onboarding consisted of two weeks of trainer-led webinars. Trainers would check-in on employees as they were onboarded, to ensure they were retaining all the relevant information. If not, the employees had to rewatch the entire webinar to refresh the information.
Effective? Maybe. Efficient? Definitely not.
Since switching to Lessonly for new hire onboarding, TravelOutlook has slashed the time it takes to train new hires nearly in half. By uploading their existing training materials alongside video clips from ilos videos, new reps are onboarded more quickly and effectively—saving time, money, and effort as they support customers across the globe.
Build an effective holiday training plan with Lessonly
Customer support teams around the world use Lessonly to build and share critical team knowledge. This results in better performance on KPIs that, in turn, improves the customer support experience. Take a self-guided, five-step tour of Lessonly and see how easy it is to boost the productivity of your team. Sign up today.