Sales training is an essential part of forming a sales team. It teaches reps everything they need to succeed from company policies to important skills and sales best practices. It can also boost employee morale, improve engagement, and ultimately lead to increased sales and performance.
But, for sales training courses to truly have an impact, they have to be done right. After all, a poorly executed sales training course can waste your time, money, and effort. It can also leave reps feeling more confused, frustrated, and uncooperative.
The Problem With Most
Sales Training
When managers and leaders train new reps who are still learning the job, they may feel intimidated. That's because reps may feel like the managers are too heavy-handed during training. As a result, they might be too afraid to ask questions, feel pressured to perform, or develop a negative opinion of their boss. 
This training failure is a big problem for organizations since they need to teach their reps to do the job properly, be respected, and make them feel comfortable enough to give feedback. So what can you do to solve this problem?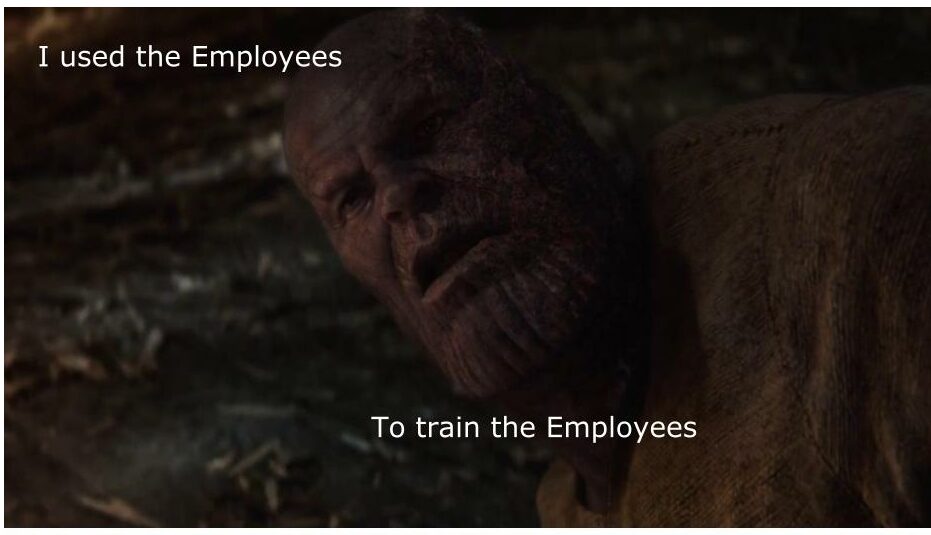 The Solution
Instead of having a handful of managers or trainers create and deliver training, tap into your top sales performers. Having a familiar, friendly face who creates training content or leads training discussions puts reps at ease and makes them more likely to perform better. But, of course, your trainers can also benefit from this as well. After all, there's a lot to know and share in the world of sales, so by harnessing the power of other subject-matter experts to build training content, your team can move quickly and efficiently. And, if your trainers aren't having conversations with prospects and customers, they might not be aware of all the best practices, tips, and tricks that your top performers know. 
Your organization can benefit from having reps create or lead training courses, too. When your more experienced reps teach their teammates how to do their job more efficiently and productively, that saves you both time and money. It goes even further, though. When reps agree to create training, they offer a fresh set of eyes to a stale situation. After all, they might suggest new sales training ideas that you had not considered before. And, their new and unique sales training techniques can help your other teammates engage with what they're learning which can inspire a new and improved way of thinking.
But, remember: you can't just pluck a random rep from the team and tell them to train others—no matter how good they are. They'll need to go through some training of their own if they're going to do this successfully. They should learn about the different types of sales training programs, sales training material, and whatever sales topics for discussion you had planned to go over.
How to Train your Reps to Train Your Reps 🙃
Sales is a challenging subject to learn, and learning how to teach sales can be even more complicated. That's because there are a ton of different sales training methods available, and you should figure out which one they're best at before you even think about letting them teach. For example, are they great at delivering feedback? Then consider having them lead one-on-one or group practice sessions where feedback and coaching is important.
Similarly, everyone learns differently, and each of your reps will respond to diverse sales training methods differently. Therefore, it's best that you have multiple experienced and trusted reps even complete a special sales training certification that prepares them to deliver great sales training across different channels and methods. 
At the end of the day, there are many ways to train your reps so they feel equipped to train their peers. Some of them are more independent, while others are more lesson-based. And, if you work remotely or want to be time-efficient, there's always virtual sales training. Virtual sales training enables your trainers and trainees to work together remotely via sales classes online.
Deliver World-Class Sales Training with Lessonly 
When it comes to creating and delivering effective training to your sales team, we're here to help. Lessonly's training, enablement, and coaching software makes it easy for your high-performing reps and subject matter experts to create lessons on sales training tips and best practices for the rest of the team. Harness the power and skills of your top performers to power the next generation of top sellers with Lessonly. Learn more here.