Batter up—we're officially in the swing of baseball season. And while we're enjoying hot dogs and cracker jacks. There's something else we're appreciating, and that, my friends, is a good ol' coaching session. 
Think about it. Home runs and no-hitters start with all-star coaching. Great ball coaches have a number of playbooks and strategies in their back pocket. And when it comes to being off the ball field, all-star sales coaches rely on the  best sales coaching software to deliver winning coaching. And that's where Lessonly comes in.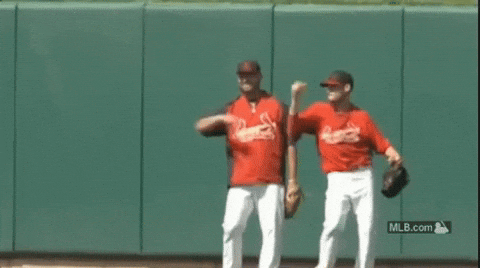 It's What You do Before the Season Starts That Makes a Champion
Investing in sales management software is one of the most important, actionable steps you can take toward creating a successful sales force. That's because both managers and sales reps benefit from effective sales performance coaching by using these integrated tools and resources.

According to Forbes, the 2020 LinkedIn State of Sales Report found that top-performing salespeople in 2020 are more likely to spend time training with their managers. Along with implementing a teaching structure, it's also key to select sales training software that makes the most sense for you and your team and optimizes the training experience—including sales coaching. 
Answer From the Podium: A mutually agreed upon set of actions that need to be completed in order to level up specific skills. These are created by a manager for a learner and can be used to track skill development.

Hit Hard, Run Fast, Turn Left
Sales managers invest in types of sales training programs to maximize sales rep performance and empower their teams to positively impact the greater sales organization. Sales coaching best practices are created so every rep is supported and equipped to effectively reach their personal and team quota and goals. And, in order to create an effective and efficient sales coaching plan, there are number of helpful features and capabilities that you should look for with your sales enablement software: 
Sales call analysis:

An important factor in a sales coaching program is the ability to record and review sales calls. Also consider features that include data insights and

automatic

documentation like deal stage analysis, length of call, topics discussed, and follow-up action plans.

Video coaching and training:

A great element is the ability to hold coaching sessions virtually and for training to be accessible from anywhere, anytime. This type of digital one-on-one offering is especially helpful if you have remote sales reps.

Tracking and insights:

Sales coaching is only beneficial if you can track rep growth over time. Look for a tool that makes it easy to track training and coaching progress as well as overall skill development. 

Integrations:

Most programs have integration offerings for different types of CRMs, calendar programs, and presentation tools which optimizes the training and coaching experience. 
Practice Winning Every Day
Out with the long-winded training plans, and in with in-the-moment coaching. Sales performance management software is the solution. And with personalized sales coaching software, your reps will hit more home runs and close bigger and better deals, all in a shorter amount of time. You know what those baseball greats always say: "Out hustle, out work, out think, out play, out last."

As a sales leader, you have the privilege and responsibility to encourage, empower, and enable your teams with the practice, guidance, feedback, tools—everything—they need to win. 
Sales managers who turn to sales coaching and sales enablement toolkits truly have the power to optimize the performance of their reps and account executives. Sales coaching enables every rep to be an ideal team player and contribute to the goals of the entire sales department, all while growing in their careers. And while the sales enablement training process involves professional sales training and support in a number of areas, not all forms of sales coaching are equal. For sales coaching to truly be effective, leaders need to deliver continuous coaching that is customized to focus on skills and reinforce great sales behavior. Things like a continual, individualized, and inclusive system. A design that reinforces positive behavior or corrects negative behavior. Typically part of each sales rep's daily or weekly routine, sales training tools focus on skills and techniques rather than numbers. So what are you waiting for?
Ready to Join the Major League of Sales Coaching with Lessonly?
Great. We've got tons of resources to help. First, check out this playbook. Then, watch this 2-minute preview to see Lessonly in action. With our help, you will increase your revenue, improve retention rates, adopt best practices, maximize sales training efforts, and build confident reps. Life is short, play hard!