Training fellow colleagues to be the best sales team out there is no mean feat. But when carried out successfully, the reward of building a close-knit and confident team is very much worth it. However, as a leader, it's often hard to know where even to start, let alone if you're hitting the mark. And with information being updated all the time, it's crucial to incorporate best practices into your training. 
You could be training a new team or simply updating the skillset of more long-standing reps. Whatever the reason, here are six ways you can improve your training abilities as a leader in sales: 
1. Hone in on One Skill
It would be amazing if we could all conquer every skill at once. Sadly, the reality is that we can't. So, to be truly great at training, the key is to recognize your teams' strengths and focus on these. 
The first task is to consider what you want your team to learn more about. Maybe they need to get to grips with the VoIP phone definition. Or, perhaps they need to level up on their customer service skills. 
It's better to have a team that's very strong in a specific area than one that's mediocre in many areas.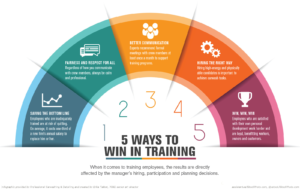 Source: Carwash
2. Focus on Your Whole Team
Nobody likes feeling left out or as though they are being left behind in their career development. This is why you should consider delivering leadership training to your entire team. The highest or lowest performers are often the focus, but it's vital to keep an eye on the progress of every single team member.
One of the best practices for training your team is keeping everyone happy. Ensure their stronger skills are kept on-point, and weaker traits are improved upon. It's also important that each trainee has clear and set goals to keep them motivated and that every individual is being listened to. 
3. Do Things Differently 
Think about it, when you learn something new, do you learn best by having someone talk at you for hours on end? Or by shaking things up and taking on new techniques? Probably the latter. 
As a good leader, you should step away from the classroom routine and look at different ways to teach your team. It may be that you throw in a silly pop quiz halfway through or put people in pairs for a fun role-play. Even using software like edtech tools will help train remote workers more engagingly. The key is not to do one exercise for too long and to get your students involved. 
4. Be Patient
Patience is a virtue. A vital best practice for your sales leadership training is to be understanding with your team. Everybody learns at different speeds and forcing people to go too quickly or slowly won't be beneficial. 
Let's say you're getting your trainees used to a new internet phone system, and you just had your first few training sessions on how to use it. Half of your team instantly picked up info on VoIP providers, but the other half needs a bit more time. In this case, don't get your whole team working on new things until everyone is ready. Reinforcing and developing freshly learned skills takes time but can be hugely advantageous.
5. Be Nice 
We all had those confidence-knocking teachers at school who would belittle at every opportunity. Don't be that teacher. Being great at sales management is about being understanding and working with your staff, rather than against them. 
Yes, it's frustrating when you have to keep repeating your point, but that doesn't mean you have to get angry and embarrass people when they don't get it. Intimidating staff will just make them feel worse and could slow down the whole learning process.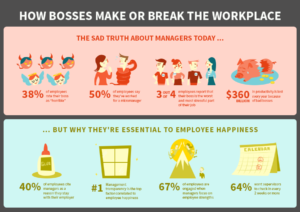 Source: TINYpulse
It doesn't matter if you're training a remote team or having a refresher in the office, being kind won't just make life easier for the people you are training, it will create a calmer and happier environment for you, too. 
6. Reinforce New Skills
Everything needs practice. Unlike what they say about riding a bike, picking up new work-based skills as an adult is difficult. New behaviors are hard to establish for everyone, but with a bit of extra care, your staff can become the best in their fields.
You could be training your staff in using the best screen-sharing programs for clients or be implementing a new customer call script; the new training will only stick if you encourage them, give feedback, and ensure they're putting what they've learned into practice.
Ultimately, after all the training, make sure you're exercising positive reinforcement. Using all these best practices will guarantee smooth and effective training. A happy team means happy customers and a successful business.
—
About the Author: Elea Andrea Almazora– RingCentral US
Elea is the SEO Content Optimization manager for RingCentral, the leader in global enterprise communication and collaboration solutions on the cloud. She has more than a decade's worth of experience in on-page optimization, editorial production, and digital publishing. She spends her free time learning new things.