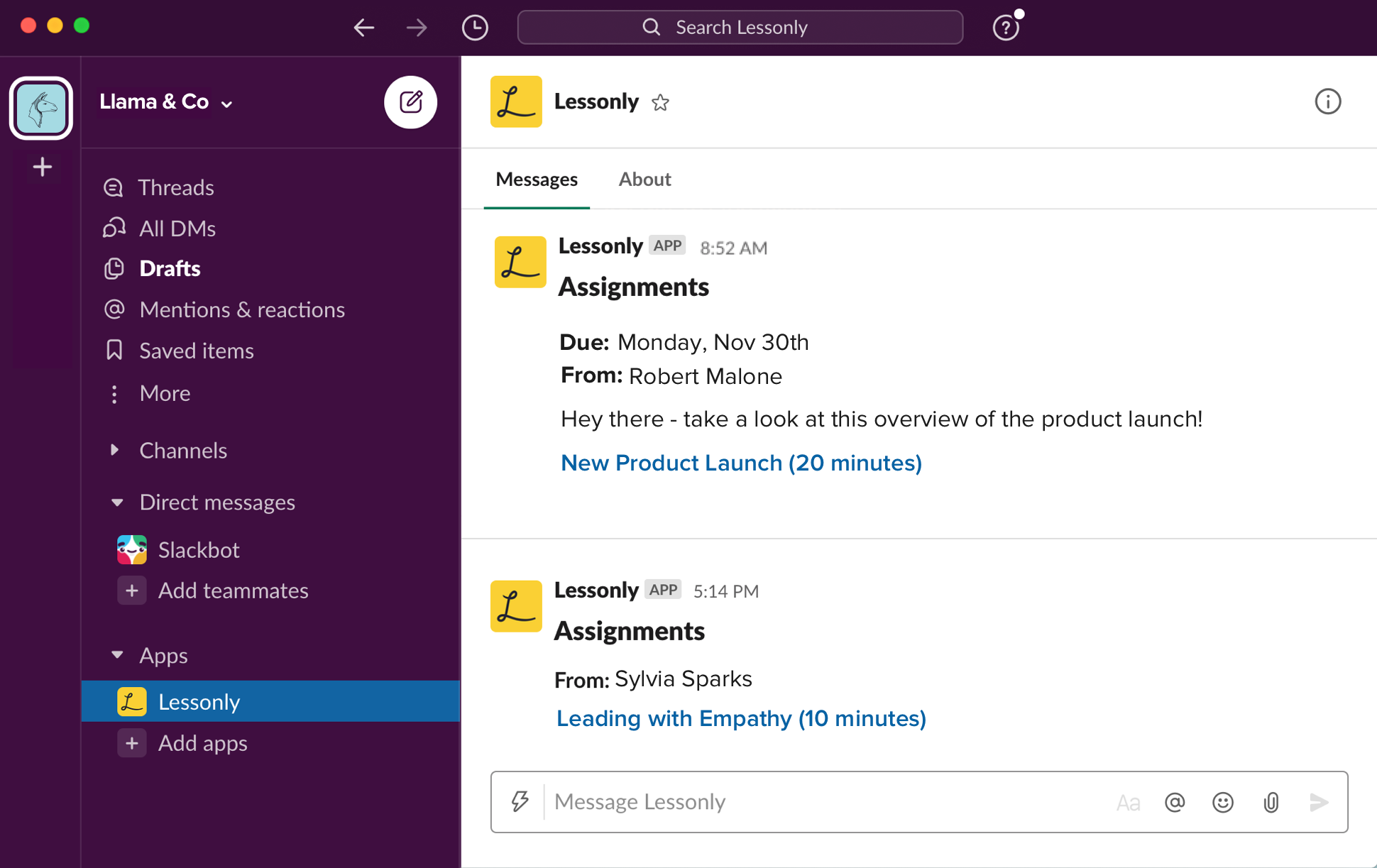 Introducing Lessonly
for Slack
Teams that communicate better, win together. Align your team with our seamless Slack integration so learners never miss a Lessonly assignment.
Get the who, what, and when—fast
Triggered Slack notifications show learners just the basics: who assigned them a lesson, what lesson was assigned, and when it's due.
Start lessons from Slack
Lessonly + Slack is team alignment's best-kept secret. Enable your team to start lessons right from Slack where they're already going for updates.
Got a minute?
Your team moves a mile a minute—and we're here to pick up any slack. (See what we did there?) Install this integration with just four simple steps.
What information will be included in the assignment notification?
The notification will include these five things: The title of the lesson, its due date, who assigned it, the approximate time it takes to complete the lesson, and a message from the assignor.
What notifications will I receive with this integration?
Current state, you'll only receive notifications of new lessons assigned to you. Lessonly has other notifications that are sent via email about assignments that are almost due and overdue, as well as notifications that a lesson has been graded. Those will not be sent via Slack at this time.
Can I pause notifications?
Yes. Using the Slack command /lessonly, you can choose to pause or resume notifications at any time.
Can I hide the Slack promo banner on my team's assignment emails?
If you're a Lessonly administrator, yes. Email your Lessonly Account Manager or support@lessonly.com to get this removed.
Can I disallow my employees from downloading this app?
No, not at this time. The Slack App Marketplace allows individual users to decide which apps they have or don't have.
Is this a "Slack-approved" App?
Yes. We've gone through the submission and review process required by Slack to have it listed in their App Directory!
What if I'm not seeing notifications after I set this up?
You'll only receive notifications for new assignments. Old assignments will not appear. If you are still not seeing new assignments, email support@lessonly.com with details of the error, and we'll take a look at it for you.
What defines an active user?
An active user is defined as a user who accesses the Lessonly platform at least once during any calendar month.