Practice, Practice, and more Practice—that's what this month is all about here at Lessonly. Take for instance our 2021 Yellowship keynote speaker, Kai Kight, violinist and innovative composer. Kai knows that the more he practices playing his violin, the better the performance will be. Practice like it's real, so that when it's real, it's like how you practiced.
What's New in Lessonly this June?
🔁 Repeatable Practice 
🧑‍💼 Skills Admin Management
Keep reading to learn more about these new features.
—
🔁 Repeatable Practice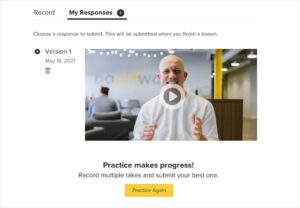 Product: Practice
We've updated in-lesson practice recording questions to be repeatable. This means learners will be encouraged to practice multiple times before choosing which selection to submit to a manager or peer for review. 
Why is this important?
Because repeated practice means better performance, and better performance means better results. Learn more.
🧑‍💼 Skills Admin Management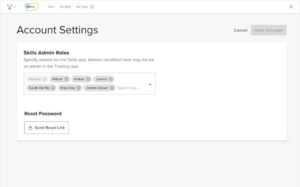 Product: Skills
Remember when we launched Skills? If not, here's a quick overview of our newest product at Lessonly. Since we launched in May, we've added the ability for you to easily manage who gets to be a Skills-specific admin. 
Why is this important?
You may not want all your Training admins to also be Skills admins and vice versa, depending on how your teams are using the different parts of the app.
With this new feature, we've released a page to manage Skills Admin Roles that can be accessed via Account Settings. This page will show a list of all the admins in a given account and offer the ability to add or remove them as a Skills specific admin. When the Skills app is enabled on your account, all existing admins will be turned on as Skills admins by default. For any new admin added after Skills is enabled, they will not be turned on as Skills admin by default. However, they can simply be made a Skills admin at any point. Learn more.
Wanting a sneak peek of next month's release?
We've started a monthly product launch sneak peek series in LlamaNation hosted by our product team. Our next event will be July 13th at 11:30am ET (one week prior to launch day). If you aren't a LlamaNation member yet and would like to join, sign up here!
And that's a wrap folks! See you next month.
P.S. Don't forget to sign up for Yellowship, The Better Work Conference, happening in person and virtually on October 5th–7th. 
Lessonly makes it easy to deliver the training and enablement
Teams see a 66% increase in ROI when they invest in coaching and practice what's most needed with their teammates. So, what are you waiting for? Learn more about Lessonly by clicking on any of the links below!