Hold onto your hats, llamas! Spring has sprung, and we've got a jam-packed release update for you! Let's hop to the highlights.
🎉  Introducing Our New Gong + Lessonly Partnership
🍭  Secondary Brand Coloring Now Available
✨  New API Enhancements
👀  A Sneak Peek at Our Newest Product, Skills
🎉 Lessonly + Gong = An Official Partnership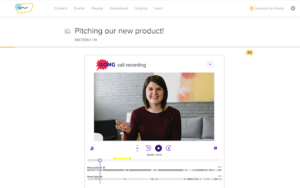 We're excited to announce our partnership with Gong! Gong's revenue intelligence platform captures customer interactions across phone, web conferencing, and email. It can record what was said in these interactions and deliver insights to help teams win more deals. With Gong's Embed Player, you can embed Gong calls (or snippets of calls) directly into Lessonly lessons. Are you as excited as we are? Share the news!
🍭 Secondary Brand Coloring Now Available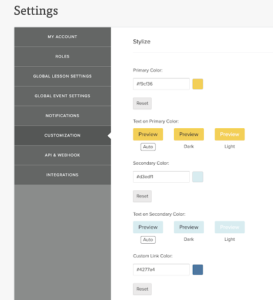 We're introducing the ability to configure a secondary branding color in your Lessonly account. This means you can further enhance the customization of your Lessonly account to align with your branding. If you have not yet identified your preferred color ahead of today, Lessonly's default secondary color (blue) will be used. Lessonly customers, you can learn more here.
✨
New
API Enhancements
This enhancement is for anyone leveraging the Lessonly API. We've been excited to see the adoption of certifications since it was released in November and with that, we want to make sure users have easy access to the information needed to analyze their certification programs. This month, we've added new data points to the API that indicate if a path is a certification or not to simplify reporting efforts. This update has been made in endpoints for Paths and Assignments.
👀 A Sneak Peek at Skills
You asked, and we delivered! What we heard is that you all need a solution to better coach your reps at scale, but you lack the time to actually do so. That's why we've been developing a new product called …drum roll please… Skills! So, what is it?
A holistic assessment of your reps

that pulls together skill observations from recent phone calls, demo presentations, negotiation conversations, etc. – all in one place!

A purpose-driven analytics tool

that allows managers to uncover opportunities for coaching and development across the team.

An actionable coaching plan

that empowers productivity by helping managers coach more effectively and get reps to revenue-driving activities faster.
We'll be launching Skills on May 18th, with a free half-day event filled with joy, connection, and skill development galore. We're calling it Skills Summit, and you can sign up here today! Get ready to learn a lot, laugh like Luigi, and level up the way you coach. You can sign up right here.
Two final things
Before I sign off, I can't forget to plug a webinar from earlier this month that I had the chance to host. It was such a blast, and we brought on enablement experts from John Hancock, Minitab, and Olo to share how they personalize coaching at scale. The session is available on-demand here! And I'll close with this: If you're reading this, and you want more information about Lessonly, we'd love to talk with you and hear more about your training needs. You can set up a call with us for whenever works best for you at lessonly.com/demo-schedule-a-call if you're interested. Until May!