We love March, and we think you will too. It's bringing us the NCAA tournament (to Indy, yay!), warmer weather and lots of new product features. There's a lot to be excited about at Lessonly this month!
So that we're not airballing our shots out of range, we've narrowed it down to the three most important things you should know:
🚀  Zoom is now integrated with Lessonly – virtual events just got easier!
💬  Chat Conversations are now available as an element in lessons.
🗓️  We've got new API assignment and filter enhancements for you
Let's break down the play-by-play!
🚀
Our Lessonly + Zoom Integration 
We're excited to introduce our first iteration of a Zoom integration. Starting today, early adopters will notice that when creating a new Event in Lessonly, they'll have a new "location" option that includes Zoom. This makes it simple for you to create a Zoom event and even simpler for learners to join thatZoom event – all without having to leave the Lessonly interface. Once you select Zoom, you'll be required to authenticate your Zoom account for the first use. Then you're off to the (virtual) races! Learn more >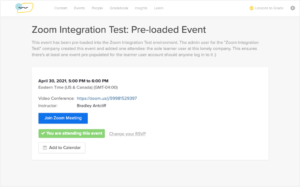 💬
New Practice Chat Conversations
Prior to today, Chat Conversations were only available for on-demand practice scenarios. But we love the real-life, back-and-forth interactions of Chat Conversations so much that we've expanded how you can leverage this element. Now, you'll be able to create these Chat Conversations as an element in a lesson. This means you can assign your reps specific simulations to practice a full conversation with a customer. Learn more > 
—
📣  Early Announcement
We are introducing the option for users to configure their secondary branding color in preparation for this feature to go into effect in our April 20th launch. This means you have the option today to input your preferred color and when we activate the functionality – you'll be all set. If no color is configured ahead of time – Lessonly's default secondary color will be used. Learn more > 
—
But wait, there's more! We're enhancing existing functionality to be even more user friendly. Below are the features launching this month.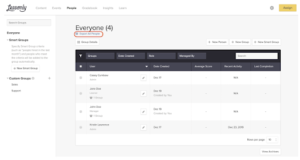 Group Export 
Previously, the People page only allowed for an export of all people. Today, admins will be able to export reports based on selected groups.
API Filters
API users are now able to filter the assignments v1.1 endpoint in order to obtain data for a specific subset of learners. Supported filters are (group_id) which will filter the list of assignments to only assignments for users who are currently members of the specified group. Learn more > 
API Assignments
API users are now able to analyze path progress via the API – including the ability to better understand score on a path as well as lessons within the path.
This update means the Assignments v1.1 endpoint will return the score for lessons and paths that are completed via direct assignment, as well as lessons completed via indirect assignment via a path. Learn more > 
Until April showers
That's it for March, everyone. I hope these new additions help you and your teammates feel even better equipped to do your jobs, grow in your careers, and take ownership of your work.
Cheers to a month of Better Work. We hope it's a slam dunk!
—
P.S. One last thing: We've got big, big plans to fill your May 18th with joy, skill development, and Donkey Kong. Intrigued? Visit lessonly.com/skills-summit for more information and registration.