If you're reading this blog post, you're here for the details, and you're gonna get 'em! In all seriousness, I'm glad you're here, and I'm excited to share with you what our product team has been working hard on lately in Lessonly.
Before we dive in, know that the best place to get an overview of this month's product updates (which are just so learner-centric and helpful), is with this quick video. Here to walk us through the updated functionality of Lessonly, the new-and-improved Grading Station perks, and some other updates too, is Alec from our product team.
The Overview
Alright, so as a review, Alec talked about the following four updates:
🔍 Now, you can filter grading by user, group, long waiting, or content in the Grading Station— whatever makes sense for you.
🧑When learners have lessons awaiting a grade, you can now navigate from the Gradebook right to the Grading Station with one click. Faster grading, here we come!
↔️ SCORM lessons (both old and new) can be stretched to full width within Lessonly now. Hasta la vista, squinting!
↕️ Now, learners can collapse their completed lessons within paths for a simpler view of what they have on their plate.
Let's go a bit more in-depth on each of these. 
🔍 Sorting the Grading Station
You now have the ability to filter your learners in the Grading Station however makes the most sense for you, depending on the graded element you're looking to review. Originally, we had the Grading Station defaulting to sort by most long waiting graded elements, but now it's by the actual content. The heart behind this is wanting you, as a grader, to be able to grade all of one element at a time so your brain doesn't have to flip flop between different lessons. 
This update will allow you to provide more consistent grading and feedback to your learners. And, if you miss the grading station as before with the longest waiting graded elements at the top, you can still sort by that, too. So basically, you've just got more options with this new set-up. 
We also added a Search field, to make finding what you are looking for easier! Here's what it looks like: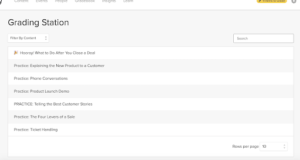 🧑 Learner-Specific Grading Pages
So, like I mentioned earlier, this second major update makes it so you can better track learner progress and their training completion over time by each individual learner as opposed to by lesson.
Instead of taking Admins and Managers to an ungraded report card when they click on an Awaiting Grade link in the Gradebook we now take them straight to the Grading Station, so they can take action with fewer clicks!

For example, in this screenshot above, if you click "Awaiting Grade" in the Gradebook, you'll be taken right to the Grading Station with all lessons awaiting grades for that specific user. So in this case, you'd be taken right to Kimberly's grading page, which'll look a little something like this.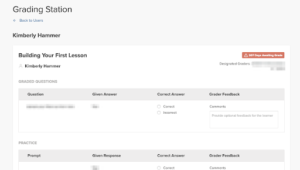 ↔️ SCORM Lessons Have Never Looked So Good
The third update makes SCORM lessons so much simpler in Lessonly. Long story short, you can set SCORM lessons to full-width now for better readability and better integration with your non-SCORM lessons. 
It's easier on the eyes for the learners, and the icing on the cake? You can create new lessons with this functionality, but you can also update existing SCORM lessons to be full width in the settings of the lessons. See below how to create full width SCORM lessons and update existing ones to stretch across the screen and right into the minds of your learners. (Dramatic? Maybe a little. Still a great update? Absolutely.)
↕️ Collapsible and Expandable Lessons
In the About account, your learners can now collapse completed lessons on their side of the house to reduce unnecessary scrolling. One thing to note here though is that this functionality only works for forced order paths, which just means that paths that allow learners to take the paths or lessons included in any order are not collapsable. Another thing to note is that this update still allows learners to expand their prior completed material so they can revisit Lessons or Paths as needed.
Our hope with this update is that your learners have boosted clarity about what training is still outstanding for them and also just for them to have a cleaner-looking interface to work with. Who doesn't like that, am I right? 
One final thing! 
As always, you can drop our support team a note or email your account manager any time if there's anything we can do for you. Or, if you have feedback on how we can make Lessonly a stronger, more intuitive tool for your team, send that our way, too!
That's all for now. Be on the lookout in September for more product news, but until then, enjoy these updates, enjoy your August, and go forth doing Better Work!
Ready to get results and win as a team with Lessonly? 💛
Building a world-class team takes both learning and practice, and Lessonly helps frontline teams do both. Learn more by clicking on the tile below that most interests you, or if you don't know where to start, check out the five most important things to know about us.