Woohoo! Welcome to our May product launch, folks. We're glad you're here.
Our product team is completely remarkable, and they pushed six new features live in Lessonly this month to help learners and leaders all over the world do Better Work. What a time to be alive! This month's launch includes new ways to respond to questions, a Seismic integration, updates to the Grading Station, a more organized Image Library, and more.
Here to give us tips and tricks for leveraging a handful of these new features is Brittany, one of the talented product engineers who helped build them. Check it out below!
Ready for a deep dive and more specifics on these changes? Keep on scrolling. We'll walk through this month's main updates and explain how your team can maximize these features to spark more clarity, camaraderie, and progress in your training.
The Seismic Integration
For those of you with Seismic as your content management system (CMS), this new integration will be game changing. Why? Because marrying content management with learning allows your team to access lessons relevant to specific pieces of content right in Seismic, right in their moments of need.
For example, let's say a newer rep isn't quite sure what type of buyer persona would benefit from a certain one-sheeter. Or maybe they don't know when in a deal cycle would be best to use a specific slide deck. Lessonly in Seismic can serve as an on-the-spot coach and guide to support that rep in knowing when to leverage different pieces of content to best serve your customers and prospects. For more on the Seismic integration, check out our knowledge base article.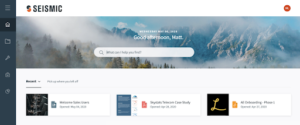 Uploading Files as Responses to Questions
Raise your hand if you've ever had to fill out a form or paperwork at your job? And raise your other hand if it's a fairly common part of your day-to-day? Well, I'm fresh out of hands to type the rest of this, and my guess would be a lot of you are, too. 
In all seriousness, filling out documents correctly is an essential part of training new hires and keeping seasoned employees sharp and up-to-date on the latest policies and procedures of your business. Now, Admins and Managers in Lessonly can create Practice scenarios where Learners are asked to fill out a form, just as they would on the job, and then upload that completed file (whether it's a .pdf, .ppt, .pptx, .xls, .xlsx, .doc, .docx, .odt, .odp, .ods, .txt, .rtf, .jpg, .png, or .img) for your review.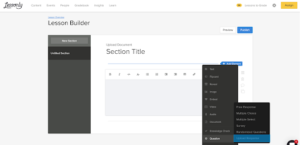 Adding Images to the Image Library
To add an image to the Image Library or not to add an image to the Image Library, that is the question. And it's a question that before this month, lesson creators weren't really able to ask because images automatically stayed in the Image Library.
But now, if you're adding an image to a lesson, you have the option to save it to your Image Library, or to use it just that one time and then keep your Image Library more organized and focused.
With this update, your Image Library will be more useful and helpful in building lessons because finding your go-to images will be quick and easy without the noise of all of the images you've recently used.
The Final Three Updates
These final updates are fairly straightforward, so we'll keep this short and sweet. Here's what you need to know:
1. Learners can navigate back to a learning path right from a lesson.
If a Learner is taking a lesson, they'll now have a button titled "Back to [Name of Path Here]" right in the lesson in the top left of their screen. This allows learners more mobility and agility within Lessonly, and will be helpful as Learners navigate lengthier learning paths.
2. The Grading Station got a glow up.
Who knew grading could look so good? We revamped and redesigned the traditional star rating system in lessons to be more communicative and indicative of how Learners actually feel about the lessons they take. We also changed the grading queue so now each item that requires grading from you as an Admin or Manager will be sorted into its own card to help you better visualize who still needs feedback.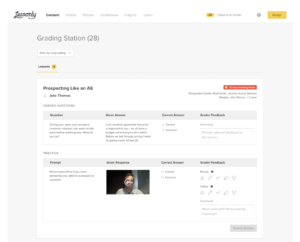 3. Admins can search and filter archived lessons.
"Way back when, remember when we had a lesson about ______? I think I archived it, but man, I'd love to have it back." Finding older, archived lessons is now simple with the search and filter functionality available in the Learn tab built into the Archives page for Admins! If you need to revive old lessons, steal some former content, revisit on an older policy, or access any of your prior learning, you now can do so with ease and agility by heading to your Archives page and searching and filtering by lesson, Practice scenario, path, event, person, or group.
That's all for this month, so we'll see you in June for some more exciting updates and improvements to Lessonly. As always, if you have questions about this product update, we're here for you. Shoot an email to your account manager or chat with our support team!
Want to bring Better Work to life on your team with Lessonly?  ?
We're in if you're in! Click on any of the tiles below to learn how Lessonly helps frontline teams around the world learn, practice, and perform—even remotely!