Lessonly was built on the idea that teams who continuously improve win. But traditional training stats like completion don't give enough insight to inform meaningful change. We want our customers to really know what's working and what isn't. So we added multiple feedback loops to our product to make continuous improvement easier. We report on those loops in Lessonly Insights.
Here are three ways you can use Lessonly Insights to improve your training program today… this first one is one of my personal favorite features in all of Lessonly.


1. Find the content your team really needs (with search data)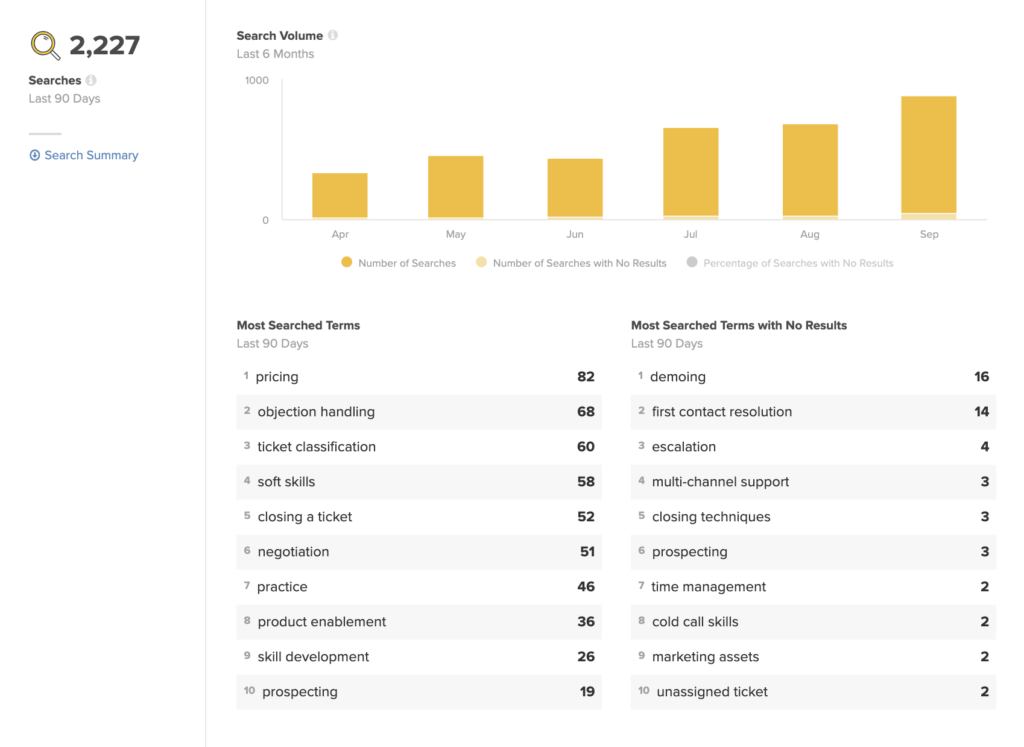 How do you decide what training content to create next? This question is a common roadblock. Asking employees is one option. But everyone brings their own bias—what one employee asks for may not be what will help the team reach their goals. So what else can be done?
We recommend using the Search section of Insights, found on the Learner Engagement tab. Here you'll find data on how often employees are searching for content in Lessonly and what they're searching for.
Each metric in this section is helpful. For instance, you can use total search volume as an engagement metric for how often the team is looking to Lessonly for help. But to answer the question "What training content should I make next?" let's focus on the most searched terms with no results. This section shows you the top terms your team is searching for, but finding no lessons about. It's a clear indicator of what your team is actively looking for and not getting from their Lessonly experience.

Tip: If you know there is a lesson on a search term, that is not getting results, it may mean a disconnect between how your team talks about something and how it's discussed in training.

When the new lesson is created or updated, let the team know what happened. "We saw you looking for information on demoing we didn't have, so we made this for you."
That is a powerful moment for a team. You're now creating a flywheel of feedback and response that builds trust over time. Engagement with training is a byproduct of that trust.

2. Fix unhelpful content (with lesson satisfaction)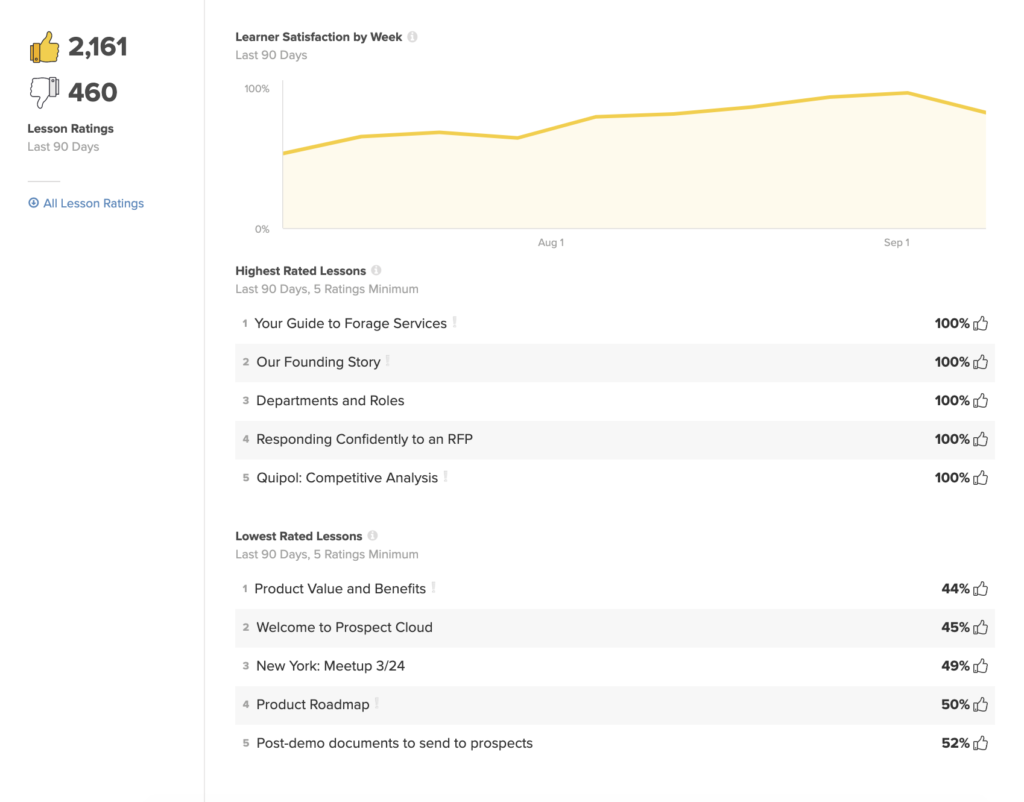 How do you know if training content is actually helpful? To find out, let's step over to the Learner Satisfaction tab of Insights and take a look at lesson ratings. When learners complete a lesson, they're asked to give a thumbs up or thumbs down rating. They're also asked to share more about why they gave that answer.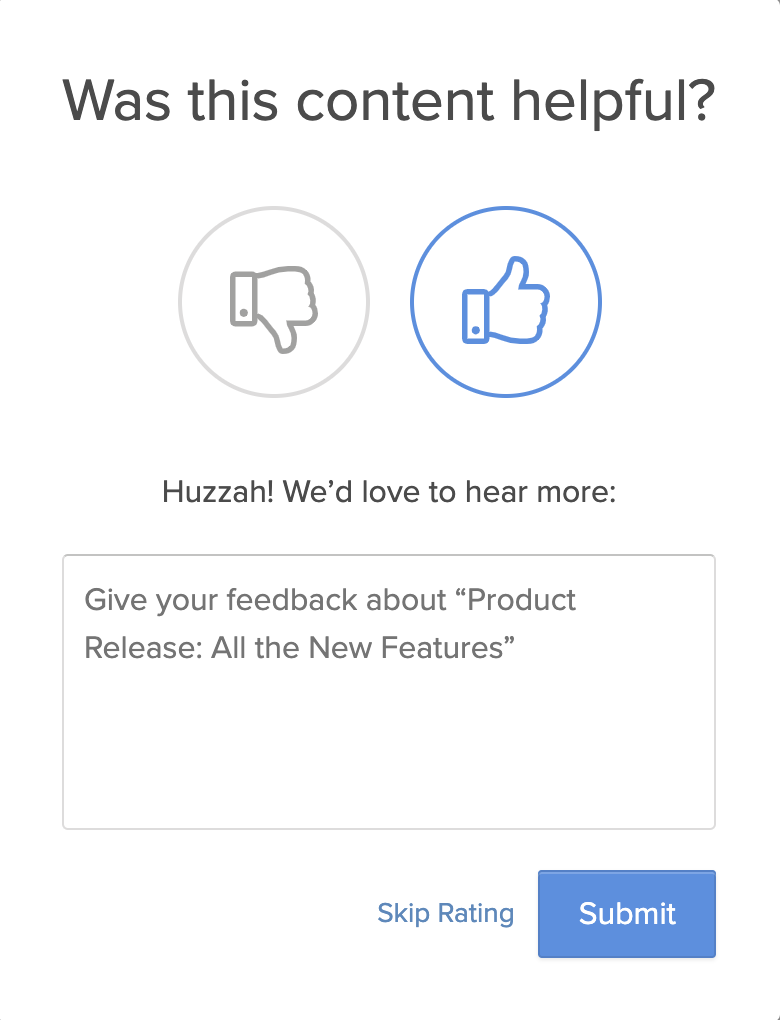 This gives a picture of the overall sentiment about a lesson. On the Insights page, look at the lowest-rated lessons to see what isn't being received well. Drill down into the lesson itself to see learner comments about what went wrong. If they didn't provide any written feedback, reach out to those who gave a thumbs down to see what could've been done better or what wasn't clear.

3. Address skill gaps (with feedback criteria)
How do you know what skills your team is struggling with? Feedback Criteria is a great tool here. When creating practice scenarios in Lessonly, creators can choose to add Feedback Criteria, which shows the learner what qualities they'll be evaluated on, such as confidence or objection handling.

Note: Feedback Criteria is only available in Practice, which comes with our Pro+Coaching package. Learn more here.

Head to the Learner Impact tab of the Insights page to find Feedback Criteria ratings, which combines all criteria used across Lessonly and ranks the five highest and lowest for your organization.

This example shows a clear difficulty with value prop and enthusiasm. This information can be used multiple ways: an updated lesson teaching the team how to clearly explain the value of your company or 1:1 coaching on how to bring more enthusiasm into customer calls.
The usefulness of feedback criteria depends on how it's used. We always recommend choosing a set of feedback criteria for each type of practice scenario used in Lessonly. For instance, choose a set of 3-5 criteria always used to practice sales pitches, angry customer responses, or a common support tickets. Using the same feedback criteria provides better data on what's working and not over time. If one criteria isn't relevant for what you want to focus on training anymore, then simply choose a new one to rotate in. But consistency will always provide the best feedback.

Bonus: Remember to filter by Group & Date
Admins in Lessonly see Insights for the entire team using Lessonly, whereas Managers' Insights page will be specific to the groups they manage. If admins want to track any insights metric over a period of time or for a specific group in Lessonly, the filter tool is there to help.

Make a change today
Insights in Lessonly distills a complex thing (training) into simple, actionable data you can act on immediately (ex. We need a lesson on our new ticketing software).
Want a TL;DR? Take these three action steps today:
Make a new lesson on one of the top 3 results terms your team is searching for with no results. Tell your team why it was created when it gets assigned.
Find your lowest-rated lesson. Reach out to 3 employees who gave it a thumbs down and ask for honest feedback on why the lesson wasn't helpful.
Pick a low-rated feedback criteria, then create a new lesson, get feedback from trusted teammates, or schedule a team practice session about it.