Many teams using Lessonly are growing—fast. They're onboarding new employees left and right, and they're using lessons to keep their team engaged, reduce turnover, and create better customer and prospect experiences. By doing these things, they're hoping to create a rising tide of growth for their company.
Growth is great. But at some point, it gets really hard to keep up. Not only is it difficult to onboard so many employees at once—but training shouldn't stop after onboarding. The most successful teams require continuous training and practice. And that puts a lot of pressure on the people who coach those teams to success.
This month we're excited to launch new products features that enable teams to practice and coach at scale—whether on a team of 10 or 10,000.
Prioritize timely feedback
When there's too much work to do, there are two paths to choose from. The first? Work more hours until it all gets done. This may solve the problem, but at what cost? And oftentimes, working more is simply impossible.
The other path is to prioritize the most important things and make sure they get done. This is a healthier way to approach work—and it's one we want to encourage with the newest filter in our grading station, called "long-waiting". This feature enables admins or managers to sort responses by the amount of time they've been waiting for a grade. This ensures that the ones that need feedback most get prioritized.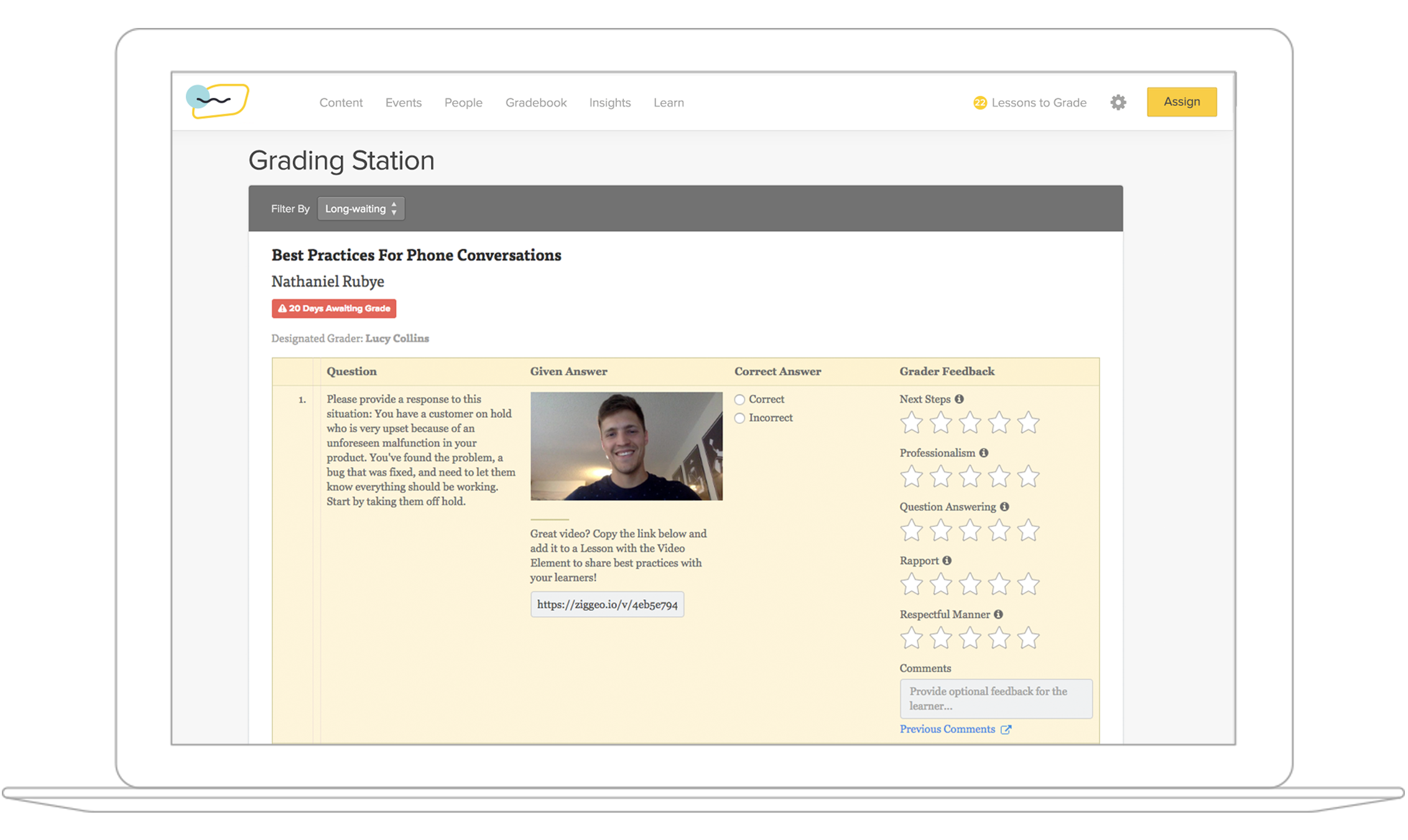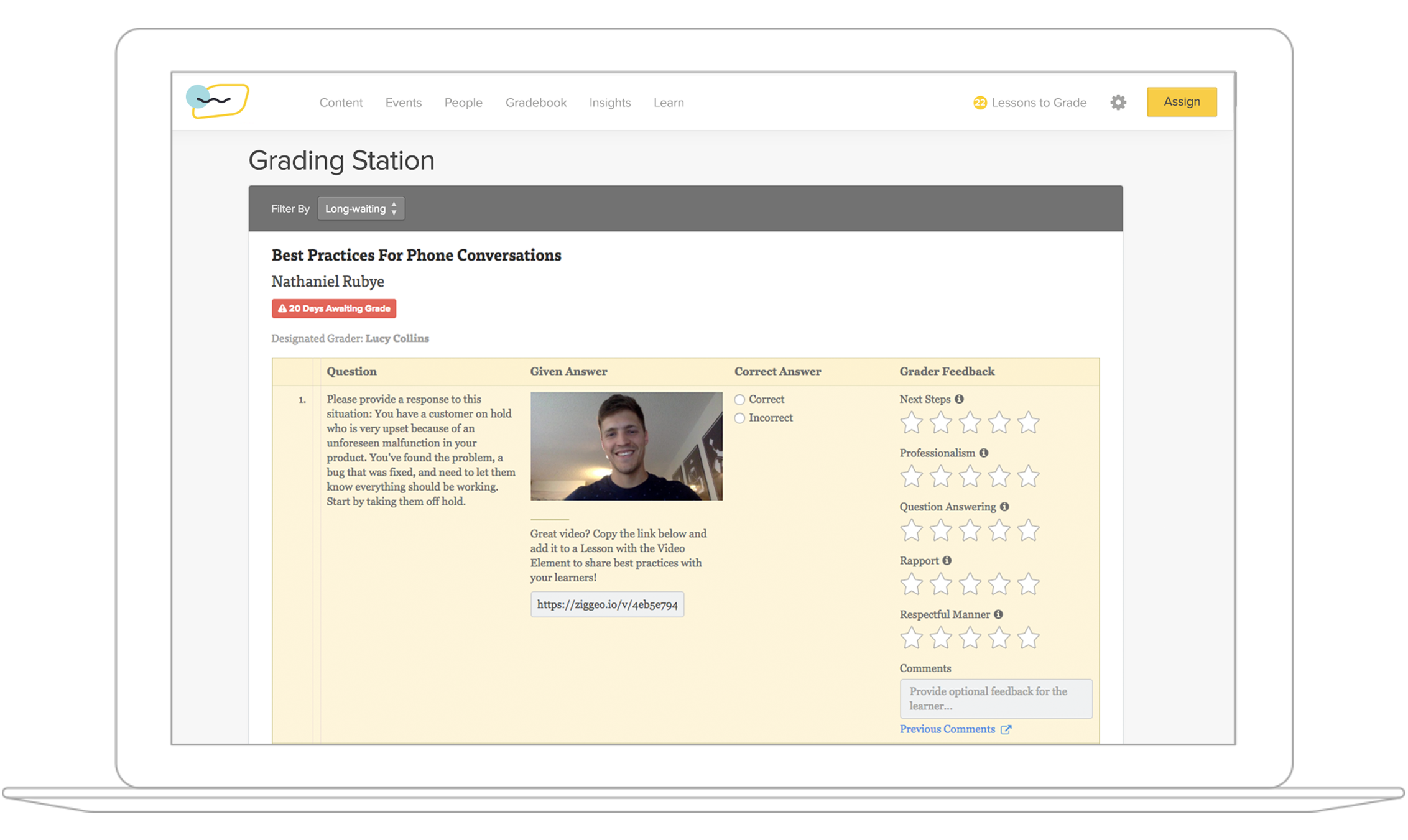 Guide employee improvement
Reporting on practice question results will now be visible on the lesson overview page. Based on what feedback criteria were chosen for each question, the average rating for each will be available. Using feedback criteria helps identify key weaknesses and strengths to continue coaching on. This will make it even quicker and easier for admins to gain insights.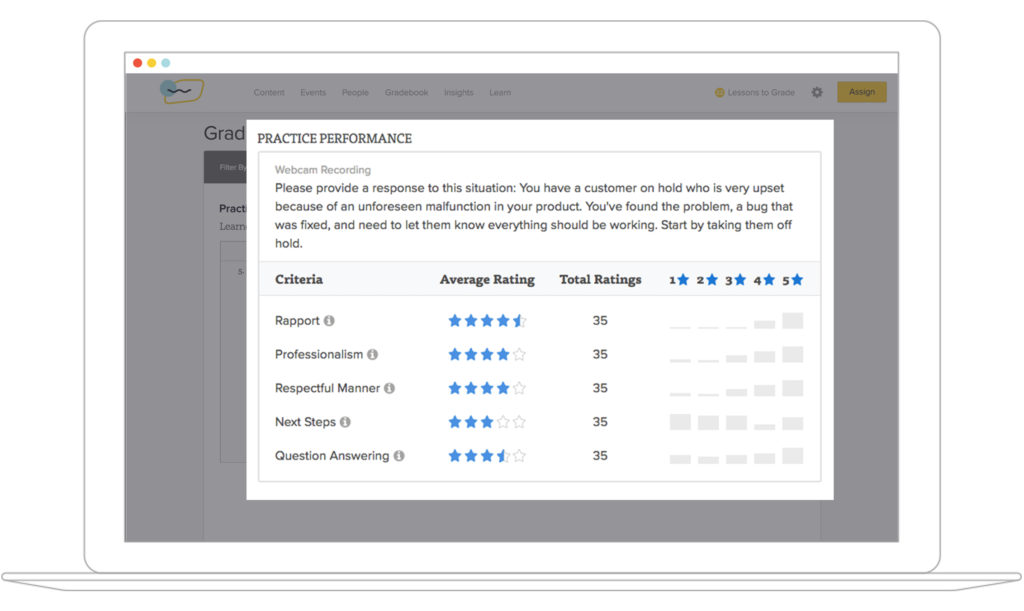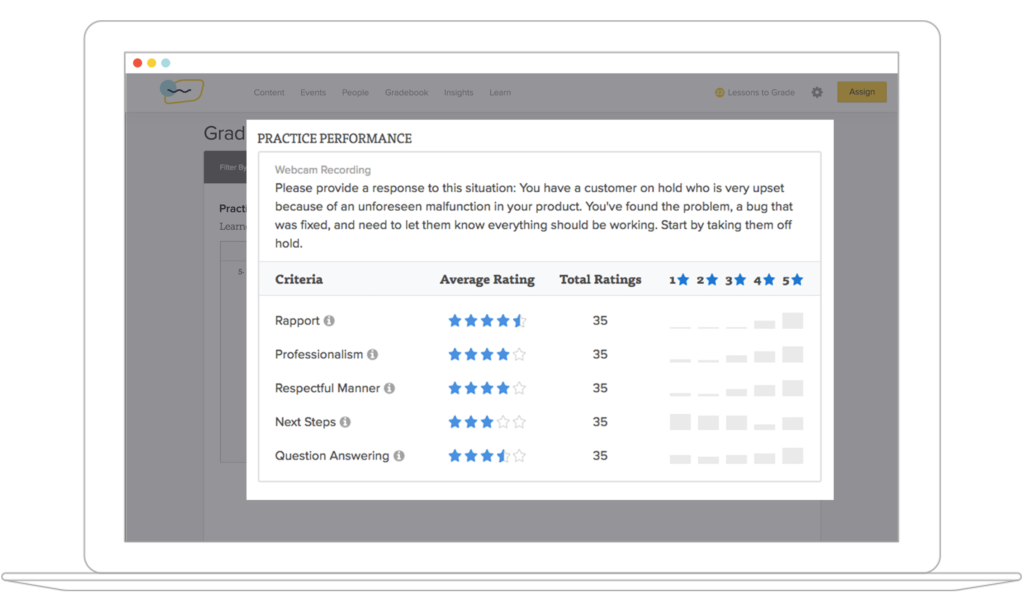 Multiply coaching impact
Another way we're making coaching efficient is by giving graders access to previous feedback on responses to the same question. If managers are offering reps similar pieces of feedback or grading takes place over a long time, all previous comments are available for reference. This streamlines the feedback process—and saves hours of extra typing along the way.
When the workload is just too much, we've also added the option to designate graders in Lessonly. For example, a sales enablement leader could designate a Sales Manager to be responsible for grading the practice of their direct reports—and the manager will be automatically notified when the lesson is ready for evaluation.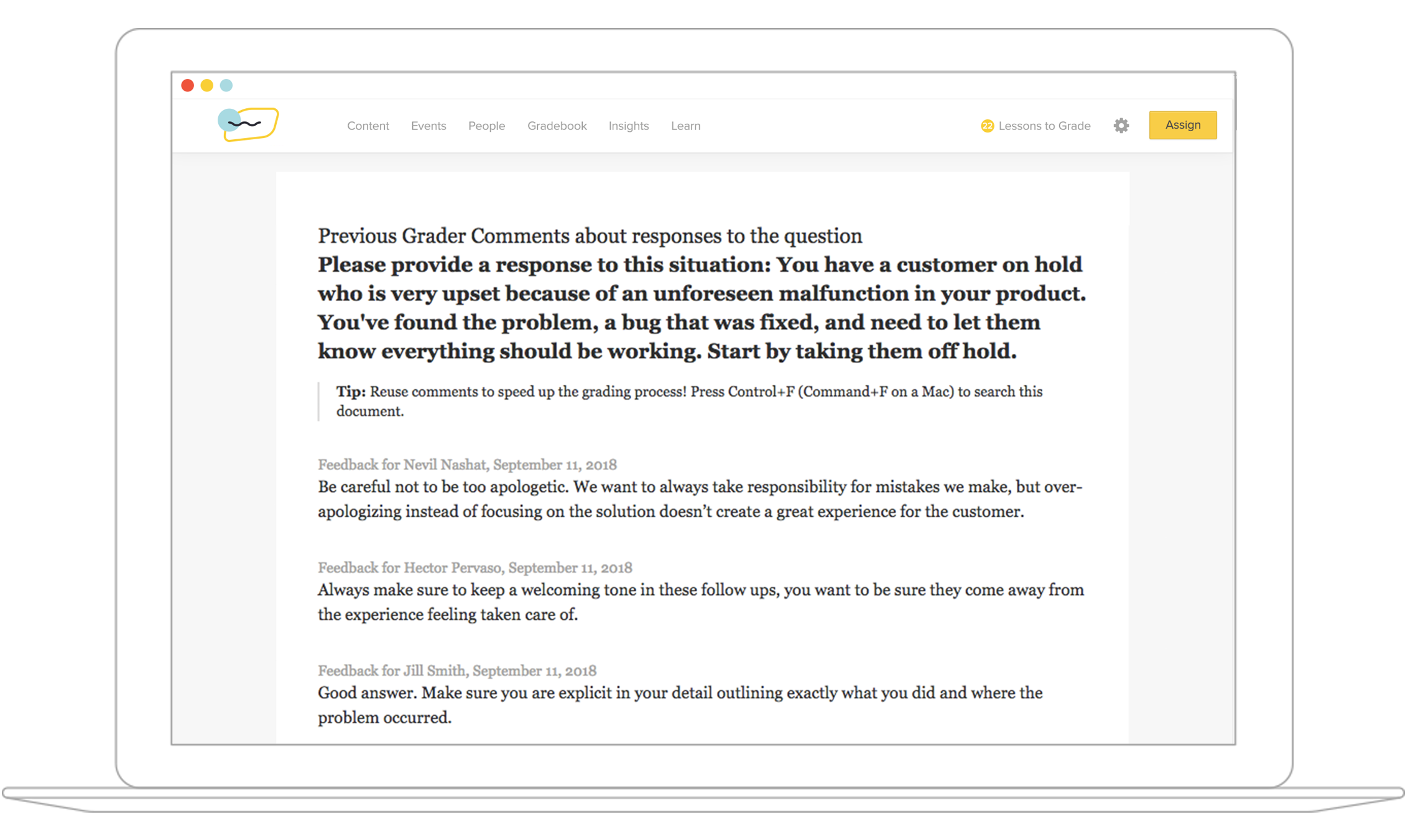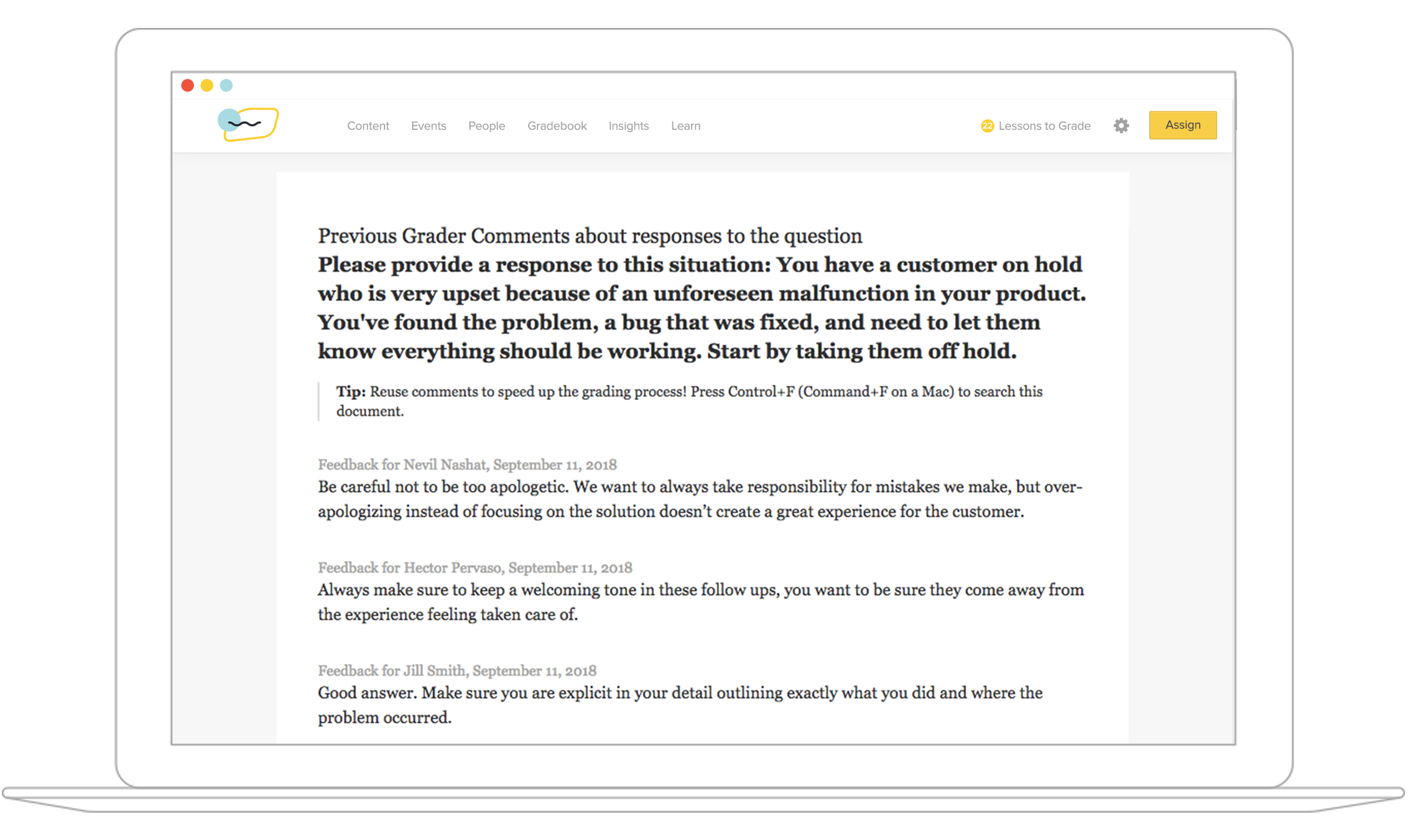 Do Better Work with Lessonly
We're always in the pursuit of doing Better Work, and that means a lot of different things. It means prioritizing, digging into data, asking for help from colleagues, and more. Whether its a brand new Lessonly feature (stay tuned next month) or an essential improvement, it's our goal to make it easier for our customers to do their best work.
Interested in learning more about Practice and how else Lessonly helps teams grow? Take a tour or schedule a demo with our team today.