Over the past year, the Lessonly team has grown drastically. And as we continually add new employees, we've experienced the difficulties of scaling a learning program firsthand. Excellent team learning requires great systems that both start new employees on the right track and ensure that veterans stay successful. Training also has to be dynamic—shifting along with the changing needs of a growing team or company.
We found our own team, and our clients, looking for a faster, easier way to manage team learning and employee training at scale. That's why we built Smart Groups.


Lessonly Smart Groups provides every employee with highly-targeted, customized learning and information. This new feature makes Lessonly even more powerful and effective for employee management and training.
Smart Groups allows admins to sort employees based on criteria such as department, job function, manager, hire date and more. Custom fields allow teams to manage employees by any criteria that work best for them. And as admins set rules for Smart Groups and add employees, Lessonly automatically ensures that the right team members get the right content.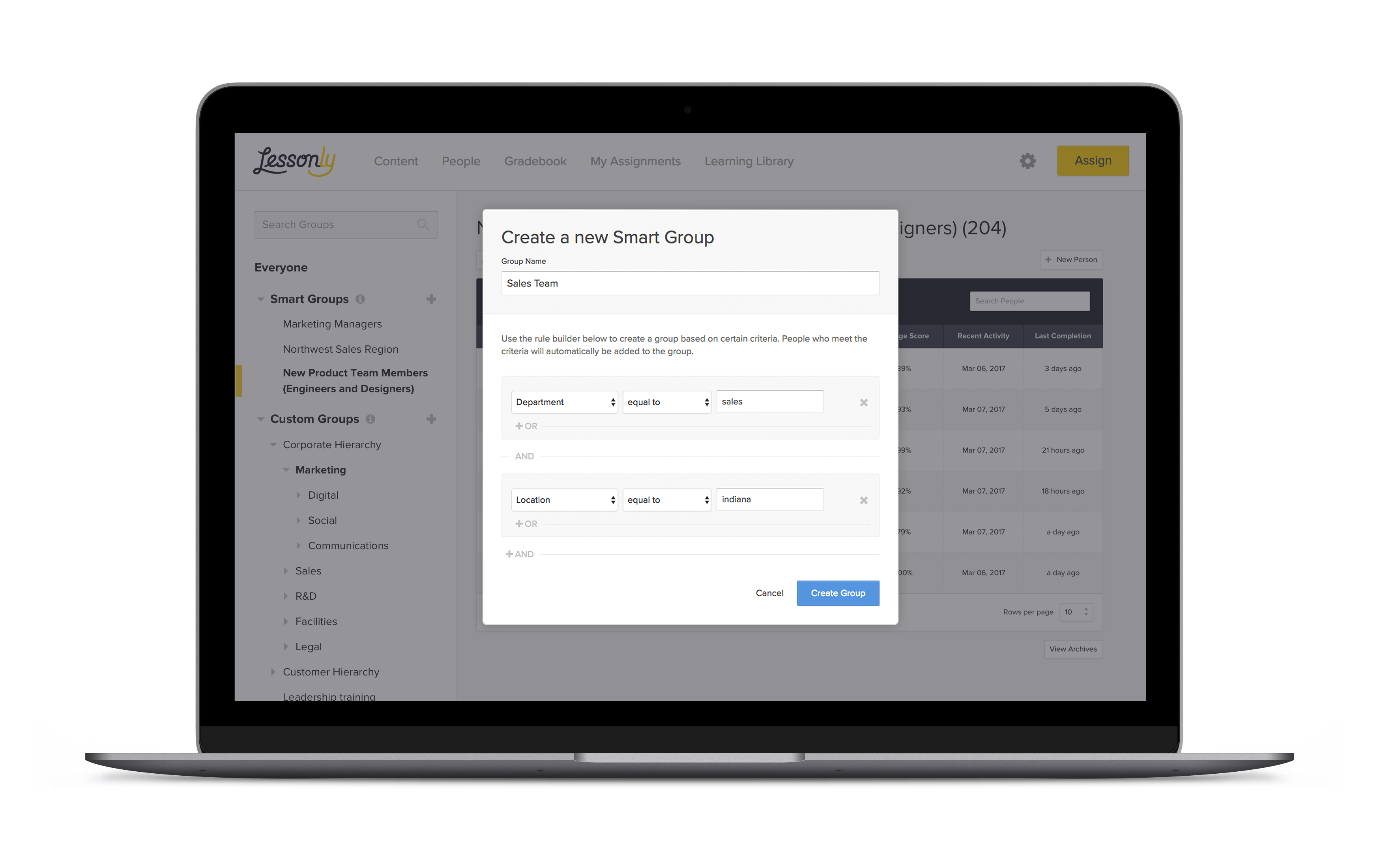 Now, as we put Lessonly to work in our own company, we deliver to each team member exactly the information they need to stay on the path to productivity. Here are a few other ways we use Smart Groups at Lessonly:
We group our sales teams by region and manager, delivering focused content to every rep.

We sort by hiring cohort to track performance compared to past cohorts. This helps us measure our onboarding and training programs over time.

We subdivide with role-specific Smart Groups, giving sales development reps slightly varied content than account executives, or product managers different information than engineers.
Smart Groups are a powerful way to personalize the learning experience for every employee, and we can't wait to hear how they help our customers do better work.
Put Smart Groups to work for your training program
Interested in learning more, or seeing Smart Groups in action? Check out our product page, or take a tour of Lessonly today.