Sales, support, and growing teams need a seamless way to search for essential job information. But traditional LMSs or information databases often fail to provide the context for employees to apply this information to their daily work. That's where Lessonly for Chrome really shines—providing the learning context necessary to help teams turn company knowledge into better performance.
Today, we're excited to announce new features coming to Lessonly for Chrome, and share where this tool is headed in the near future.
Increased search functionality
From Google to your local library, search is one of the most universal actions that people use when they want to find information. We believe this same search functionality should be available at work, and we also believe that a company's best work happens when this kind of access exists.
Lessonly for Chrome brings a fully-functional search bar, specifically for learning, straight to your browser. On any webpage, learners will be able to open Lessonly for Chrome, type in a query, and view relevant lessons with the knowledge they need to do better work.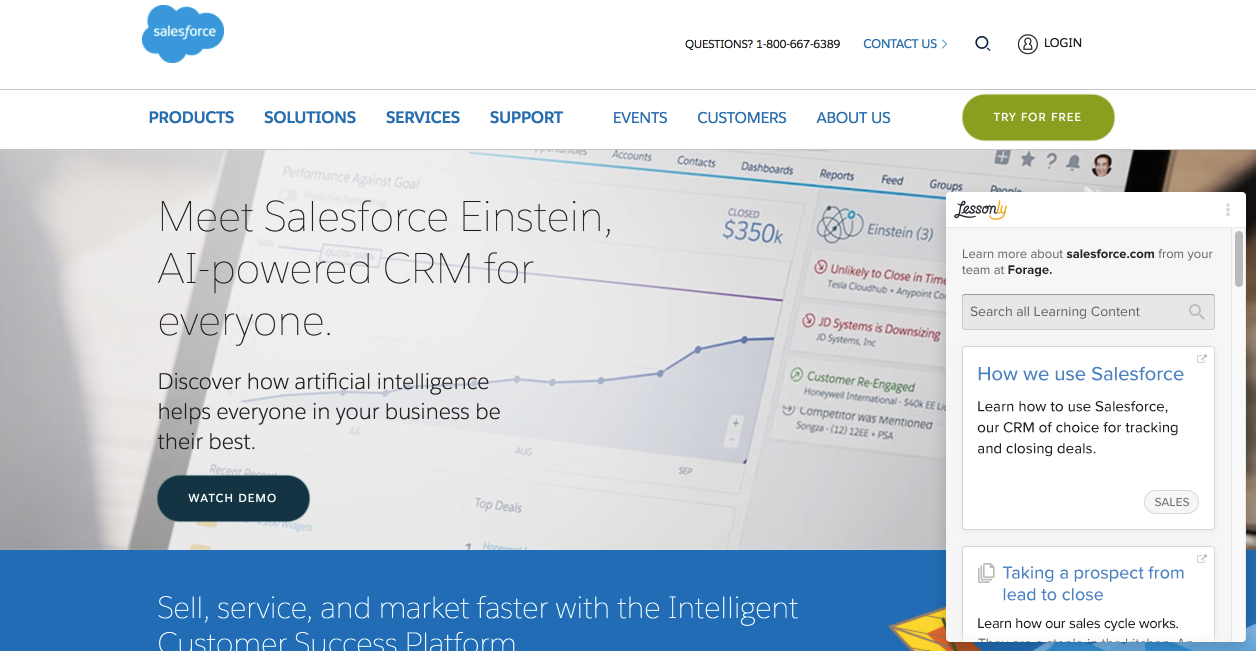 This search pulls information from your team's assignments and Learning Library. No matter where the information lives in Lessonly, your team can find it quickly. This means less time searching for answers and more time helping customers, closing deals, and focusing on work.
A fresh user interface
To help learners digest and apply this newfound information, we've also made some cosmetic updates to the user interface of Lessonly for Chrome.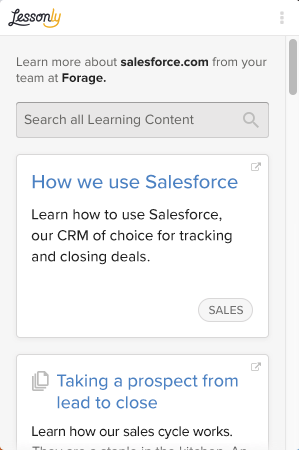 The powerful information accessed via Lessonly for Chrome is worthless without an easy way to understand it. These UI changes make information in Lessonly more categorized and easier to digest for learners. We've also updated tagging capabilities, improved lesson descriptions, highlighted search terms, and more.
Lessonly for Chrome is one of the most flexible and accessible tools available to teams. We're committed to constant improvement, so you can expect more changes to Lessonly for Chrome in the coming months.
Ask the Expert integration
Ask the Expert makes it quick and easy for employees to ask for clarification on important team knowledge. Soon, we're bringing the same Ask the Expert functionality from our app into Lessonly for Chrome. Now employees can easily get clarity from a coworker or manager on whatever topic they encounter in their daily work.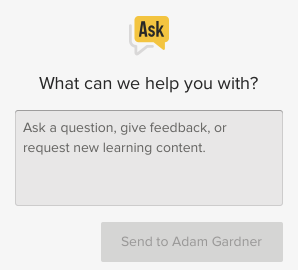 Embedded lesson experience
We also plan to bring the entire Lessonly experience to a window in your Chrome browser. By nesting Lessonly within Chrome, your team doesn't have to leave their workflow to get the knowledge they need. We're really excited to see team productivity skyrocket with Lessonly for Chrome.
We'll let you know more as we launch these new updates to Lessonly for Chrome in the coming weeks. If you have any questions about these new features, feel free to reach out to your Client Experience Manager, or sales@lessonly.com and we'd be happy to chat.