As businesses expand and headcount grows, company knowledge and subject matter expertise often becomes siloed over time, translating into greater inefficiency. In fact, according to McKinsey, the average worker spends nearly 20 percent of their workweek looking for internal information.
This month at Lessonly, we focused on building several features and integrations that will drive learning efficiencies as your business scales by reaching your employees when and where they need productivity learning most.
Chrome Extension
Here's why we built this: Training ceases to feel like training when it arrives to help you in your moment of need. At that point, it's super-helpful, super-timely guidance. The Lessonly Chrome Extension recommends the critical information teams need to do better work—when and where they need it.
Connect relevant learning content to the webpages and apps your employees use every day. Recommend this information in-browser, proactively providing your employees with the knowledge they need to do their best work. Lessonly Admins can assign lessons to websites or specific webpages, even pointing to specific sections within a lesson.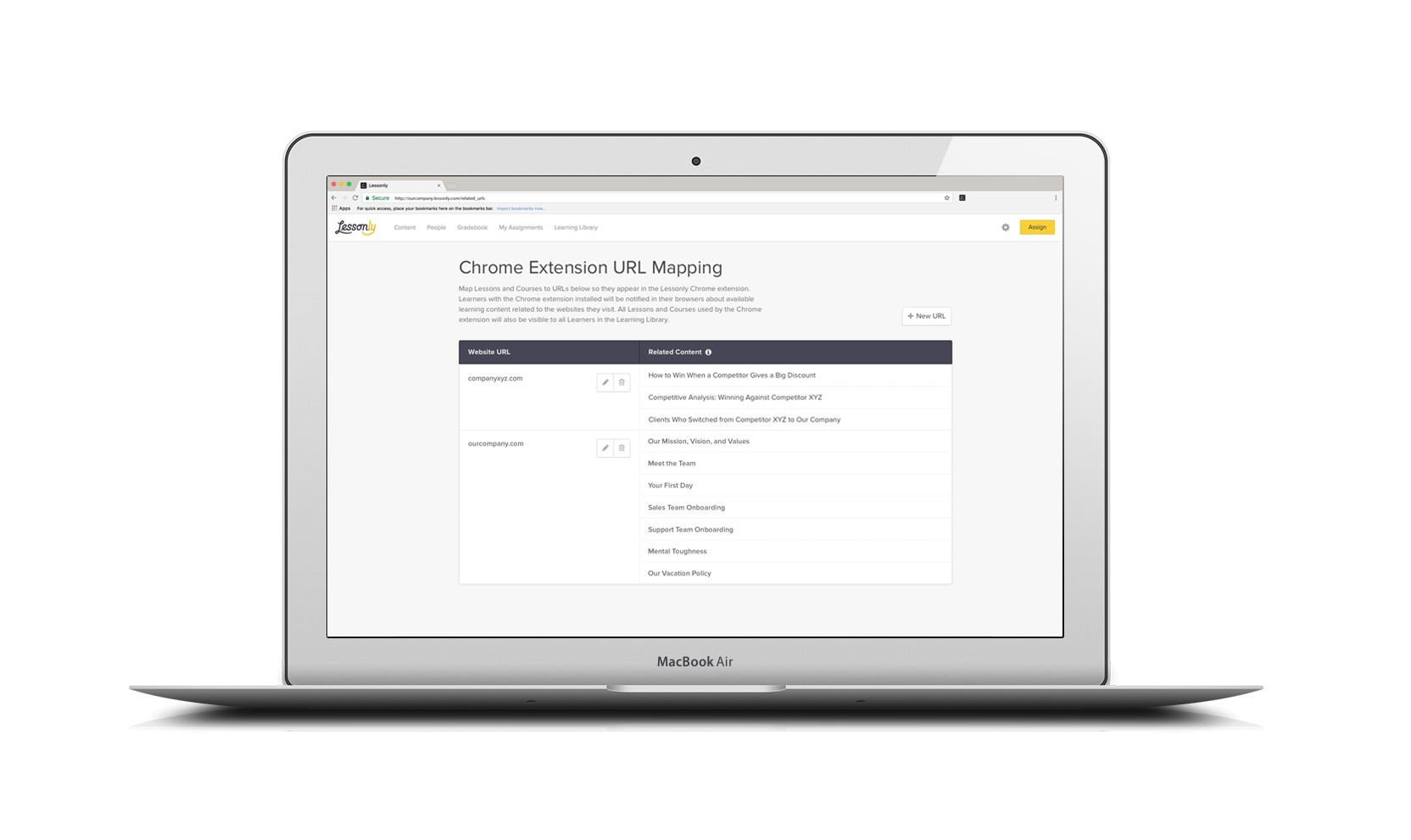 The Lessonly Chrome Extension will show relevant lessons in their browser when an employee navigates to a page that has been mapped. Clicking a lesson opens a new tab, taking the Learner directly to the relevant content.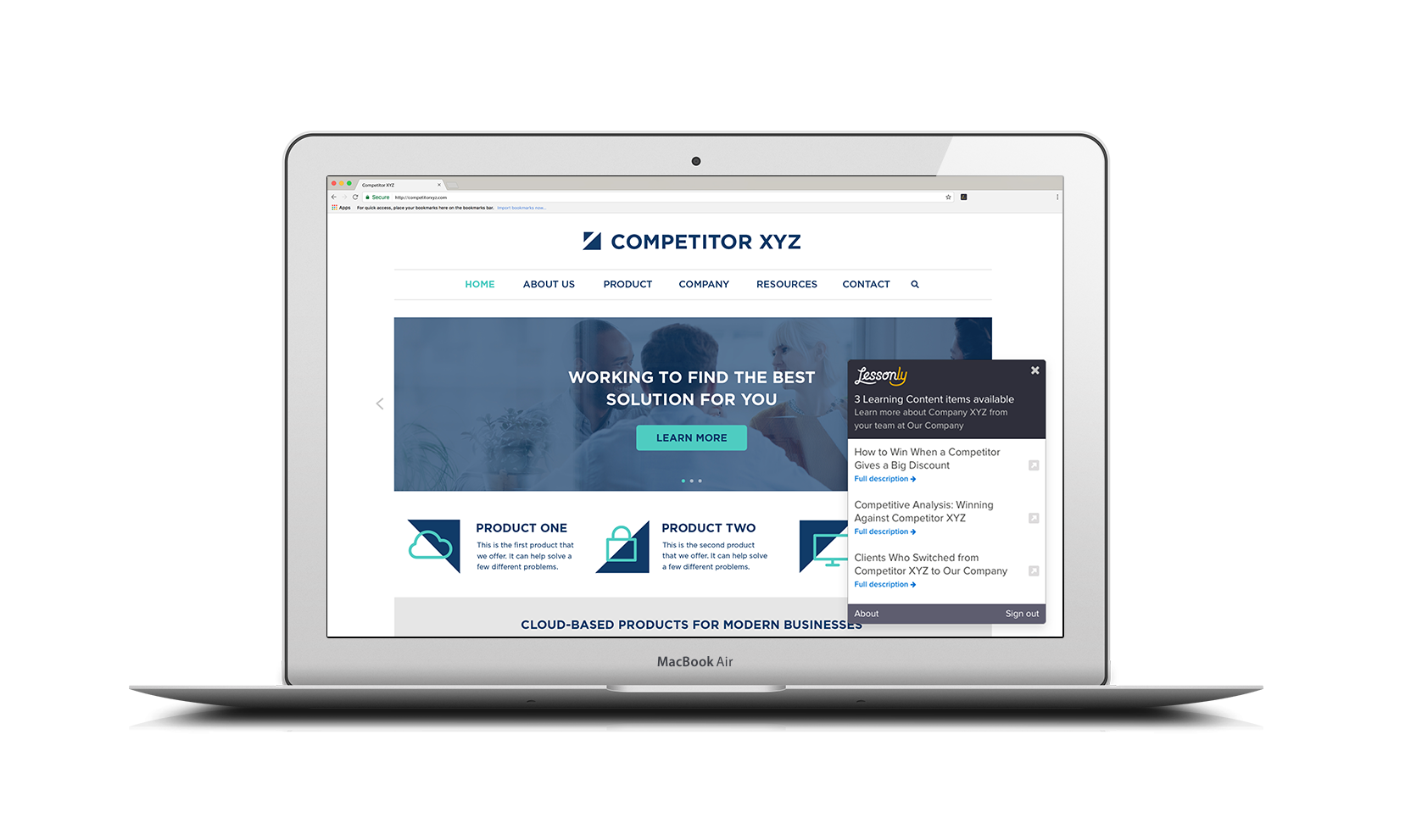 The Lessonly Chrome Extension is available as a paid add-on to all Lessonly customers. Learn more about it here.
Updated Assign Modal
Our new Assign modal makes distributing learning content even simpler than before. Search and filter both assignment content and recipients. One-to-one and large scale learning programs can be assigned using the same process, allowing for a complete onboarding program or one-off assignments to individual employees.
Send out assignments immediately or at a later date, choose a due date, and create recurring assignments to send out at chosen intervals.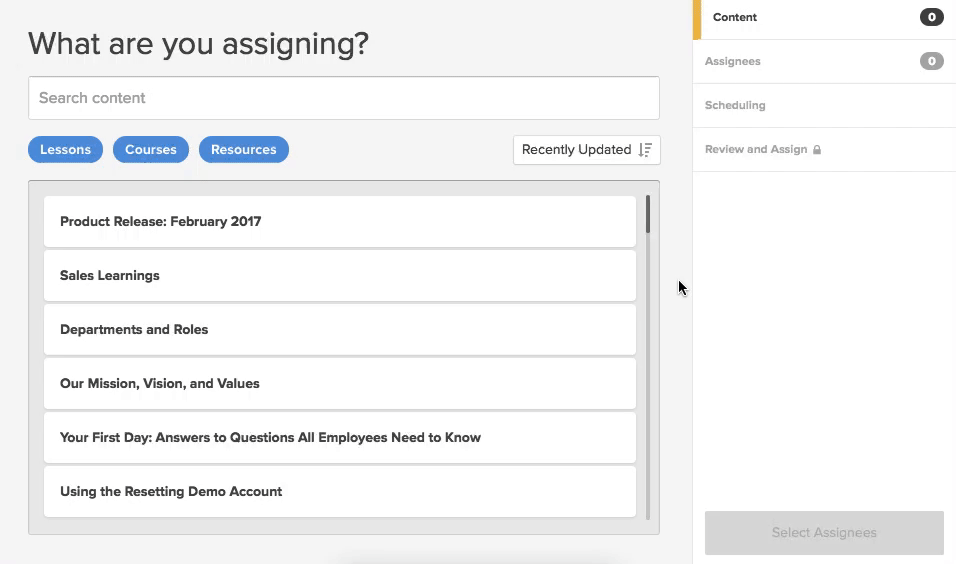 As teams grow, learning programs usually contain more diverse groups, content, and timelines. Tightening up assignments into a simple and scalable step-by-step process allows teams to distribute learning effectively, no matter the size and structure of the organization.
Salesforce Integration
We launched Lessonly for Salesforce Sales Cloud this month, bringing training and productivity learning directly into Salesforce.
Now, Lessonly is seamlessly integrated as a tab within Salesforce, giving sales teams access to their learning program where they already spend most of their time. Guided learning in Salesforce Lightning recommends relevant Lessons to reps, based on sales stage, giving them the information and knowledge to move deals to close. Custom reporting and dashboards track the effectiveness of team learning and show correlation to KPIs, providing measurable insight into the ROI of learning efforts.
Check out more about Lessonly for Salesforce here, or on the Salesforce AppExchange.
Ask the Expert Update
Reminders have been added to Ask the Expert—specifically in the Learning Library. Now, Learning Library experts can receive reminder emails can be sent on a weekly, monthly, quarterly, or annual basis.



When business gets hectic and a team is growing, these automated reminders take the burden of remembering off of experts, allowing them to focus on the present and still keep knowledge in the Learning Library updated at a chosen interval.
Looking Ahead
When training is helpful and relevant to an employee's job, it ceases to feel like training and starts to feel like helpful guidance.
We're excited to build on this vision in 2017, making it easier for employees to learn and do better work, in turn providing greater value to their growing teams.
If you have any questions about these new features, feel free to reach out to sales@lessonly.com and we'd be happy to chat.