Last month, we announced the arrival of a few key features designed to engage your Learners more meaningfully. We've already received helpful feedback from our customers on these features, and have improved them substantially. We're excited to share them with you.
Ask the Expert additions
You told us that giving Learners the opportunity to offer feedback or ask questions within a Lesson is great, but that isn't the only place they may have a question.
So we've added Ask the Expert to the Learning Library as well. Now, Admins can add an expert (maybe themselves) to the Library, and all questions from Learners will go to them.

Randomized Questions improvements
We introduced Randomized Questions to engage Learners in a more dynamic way using quiz questions, such as A/B testing for knowledge gaps.
And now our Product Team has made Randomized Questions much more flexible, allowing you to shape random quizzes as you see fit. Just like standalone Question Elements, Randomized Question Elements can be marked as required or not required.
Want multiple Randomized Questions in the same section? With this update, you can easily create multiple Randomized Questions and move Questions into, out of, or between them. If you want a Question to always appear, just drag it out of the Randomized Question and place it as you would any other element. Alternatively, if you'd like a Question to be randomized, simply drag it into the Randomized Question.
Sign-in page refresh
Our designers—with a special shoutout to our newest designer Adam—have worked hard making the Lessonly app more enjoyable to use from top to bottom. The latest improvement is a refresh of our sign-in page. It's cleaner and easier to navigate, and just feels good.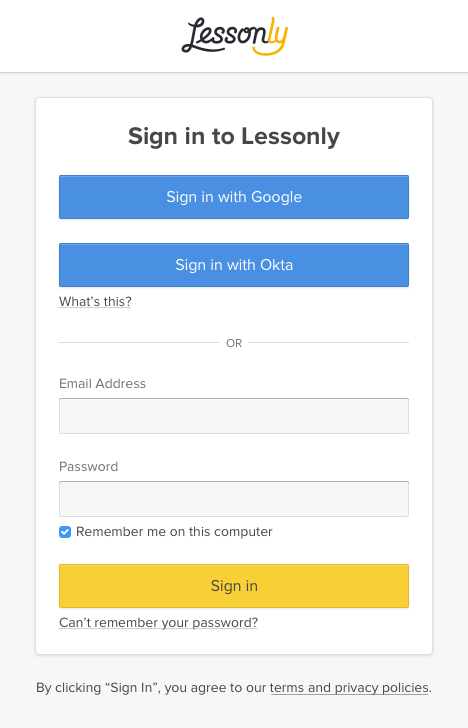 Note
One last note, you may have noticed a few months ago that our domain changed from Lesson.ly to Lessonly.com. Our app is doing the same soon. We'll reach out with details for all our customers as this happens, but it'll be nice to have everything Lessonly under the .com name.
As always, if you have questions or feedback, please reach out to support@lessonly.com. We're happy to help!