Work sure does look drastically different for most us than it did just a few weeks ago. In response to the growing COVID-19 outbreak, many of us have adjusted our daily routines and embraced the remote work lifestyle. 
While some of us may have dabbled in working remotely in the past, this is a completely new experience for a lot of other teams. And, understandably it comes with some challenges. But, just because we aren't actually going into the office doesn't mean team connection and camaraderie has to suffer.
To help make the transition easier, we've compiled a list of the ways Lessonly is building connection and camaraderie for every single llama—no matter where we are.
Go virtual for remote team collaboration
We're big believers in face-to-face meetings. Unlike phone calls, virtual conference calls give everyone the chance to visually connect with one another. This makes it so much easier to read body language, build relationships, and engage with the conversation. Here are just a few of the meetings that we've embraced virtual calls for.
All-team meetings: Every Monday, the entire Lessonly team gets together for a 30-minute meeting. During this time, we share departmental updates, hear special announcements, and celebrate the work we've done. Since we aren't at our beloved schoolhouse right now, we all hop online for a virtual team meeting. This gives us the chance to see everyone's smiling face and stay up-to-date on company-wide news. 
One-on-one discussions: Whether we're hanging with another teammate or our managers, we've found that one-on-one meetings are way more effective through video calls. Face-to-face virtual calls make it easier to brainstorm ideas or have difficult conversations. The result? Better conversations and Better Work. 
Team syncs: We've also seen some pretty cool team huddles take place over the last few weeks. For example, our product team starts off the morning with a meeting called coffee pot. Everyone gathers around the computer with their favorite cup o' joe to sync up on schedules and tasks. Similarly, our service delivery managers end the day with pow wow chow, where they share a highlight of the day and the favorite thing they ate. 
Office hours: Working away from the office doesn't mean that business is on hold. In fact, our product team is crushing it and working hard on new Lessonly features. That's why they allocate a few hours each week for office hours, which gives other teammates the chance to learn more about some of their newest projects. 
Lunch hangs: Anyone else find themselves visiting their kitchens more than usual? We've found that working remotely makes us more inclined to just work through lunch. So, a few of our teams have scheduled virtual lunch dates to inspire everyone to take a break from work, make a great meal, and connect with their teammates over lunch. 

If you're looking for some recommendations to turn to for your virtual team—we suggest Zoom, Google Hangouts, and Slack Calls!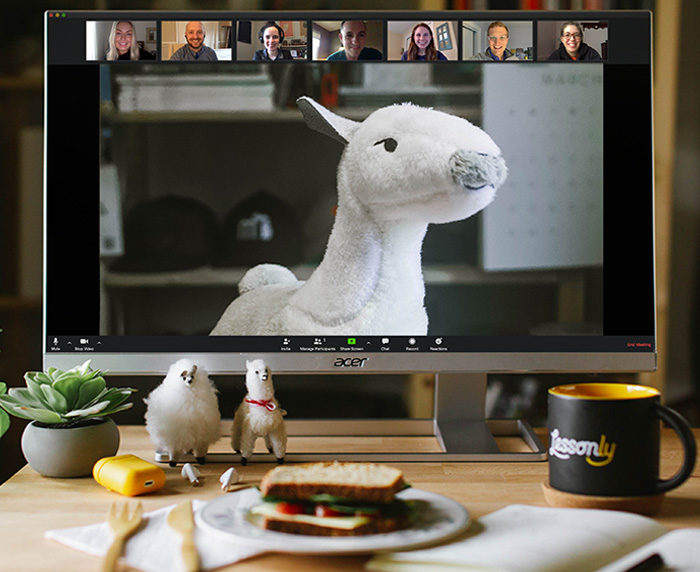 Create spaces for remote team communication
Communicating with remote teams can be difficult to navigate. And just because we're remote, doesn't mean we should be removed from our co-workers. That's why we created ways to connect with one another every day. Here's some of our favorites. 
Slack: Consider this our love note to Slack. From celebrating work-aversaries and birthdays to chatting with llamas across every single team, we use Slack for just about everything. 
Donut: Connecting with colleagues is more important than ever, which is why we love this Slack app. Donut randomly pairs up team members every few weeks so employees who may not work closely together can bond and learn more about one another. It's a great way to get team members talking and building better relationships.

Zoom lounge: One of the hottest spots at the Lessonly office is our lounge and kitchen. You can always find teammates hanging out in a booth or conversing near our Bevi station. And we really didn't want to lose those organic connections while we're working remotely. So, our VP of Enablement, Bryan Naas had the awesome idea to create an open Zoom lounge that anyone can hop in at any time of the day to hang out and catch up.
Celebrate each other for increased engagement
Words matter and here at Lessonly, we love celebrating each other. So, we've created new ways to highlight each other's hard work. 
Virtual appreciation cards: Nothing brightens up the room quite like thoughtful encouragement. We transformed Lessonly's physical"You Are Awesome" cards into an online format so our teammates can share the love from their homes. Want some appreciation cards of your own? Follow us on Instagram and highlight the magic of your own teammates, too.
Shout-outs: Great work should be shouted from the rooftops. Ok—maybe, in this case, it should be shouted online and in meetings. Either way, we created a special channel in Slack just for shout-outs. We also give teammates the opportunity to share a shout-out during Monday's all-team meeting. 

Prioritize mental and physical health
Online fitness classes: Normally, Lessonly yogis gather over lunch to take part in a session led by one of our teammates. When we moved to a remote workforce, the group decided it was still important to focus on wellness. Now, we practice from the comfort of our own homes and come together virtually to set intentions for the week and relieve stress. Llamaste.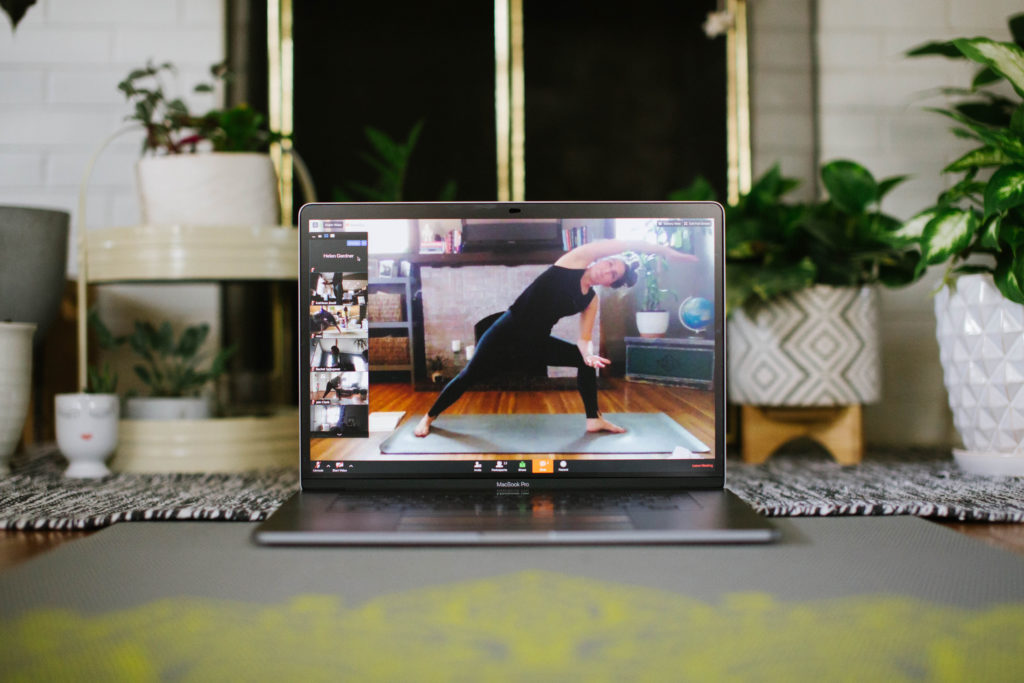 Mama llama group: Calling all mamas out there! Juggling kiddos and remote work is heroic, to say the least. That's why a group of Lessonly moms moved their monthly hang to online so they can still talk about motherhood and work-life balance.
Make time for life in the midst of remote work
We're humans first and llamas second. So, to celebrate our core value of making time for life, we've also created ways for our team to connect and have a little fun. 
Happy hours: We survived another week of remote work, and that my friends, is something to celebrate. On Fridays, we encourage everyone to hit the pause button on work, grab their favorite beverage, hop on Zoom, and talk about things other than work. 
Lessonly cribs: Calling all 90's kids! We're spending a lot of time at home, so why not give our co-workers a tour of our temporary offices? Giving everyone a quick look inside our homes makes for a unique way to get to know our co-workers. 
Show and tell: Earlier this week our sales and marketing teams kicked-off their morning stand-up meetings with a traditional round of show and tell. From blankets and books to cats and cameras, this was a fun way to show each other the items that are helping us get navigate remote work. 
Little llama love: We can't forget about our littlest llamas. That's why we put our hooves together to create this coloring book of our chief mascot, Ollie Llama. We also have a house musician who created "Music Fun Time with Noah." This gives kiddos the chance to virtually hang out and enjoy some music creativity. 
Virtual game nights: Our friends at SnackNation found a way to get the team together for a virtual mystery murder game night. It's a great and fun way to encourage collaboration and enjoy time together outside of work! Check out their tips here!
Better Work isn't limited to the office. But, when there's remote team collaboration and communication, Better Work will be found from kitchen tables, front porches, home offices, and living rooms. We hope some of these ideas inspire you to create a remote team culture that makes everyone excited to connect with their teammates in the days ahead!
Do Better Remote Work with Lessonly
Lessonly is online training software that enables teams to move fast, stay aligned, and do Better Work—in or out of the office. Lessonly is consistently ranked as the top corporate LMS on sites like G2 and Trust Radius. See why Fortune 100 companies and small businesses alike train their teams with Lessonly.