"Values should be things we aspire to. Things that if we were not reminded to do would be harder to do."
— Max Yoder
Here at Lessonly, we believe that our mission, vision, and values matter deeply. They reflect the behaviors that are challenging—but necessary—for our team to Do Better Work. And in the spirit of humility and continuous, rapid improvement, we're not above changing them when it's time to refocus.
Since setting our company values nearly four years ago, our team has grown and evolved. We've welcomed new team members, expanded our product, and honed what it means to be a Lessonly llama. So, we knew it was time to take a look at our values in a new light.
Last year at the State of the Union (SOTU), our twice-annual company gathering, our CEO Max stood on stage and reoriented us towards our mission of doing Better Work. At this year's SOTU, which took place last week, Max shared revised values, centered around Better Work, with the entire company. While some values like we put learners first, share before we're ready, have difficult conversations, and make time for life still ring true today, we also introduced three new values.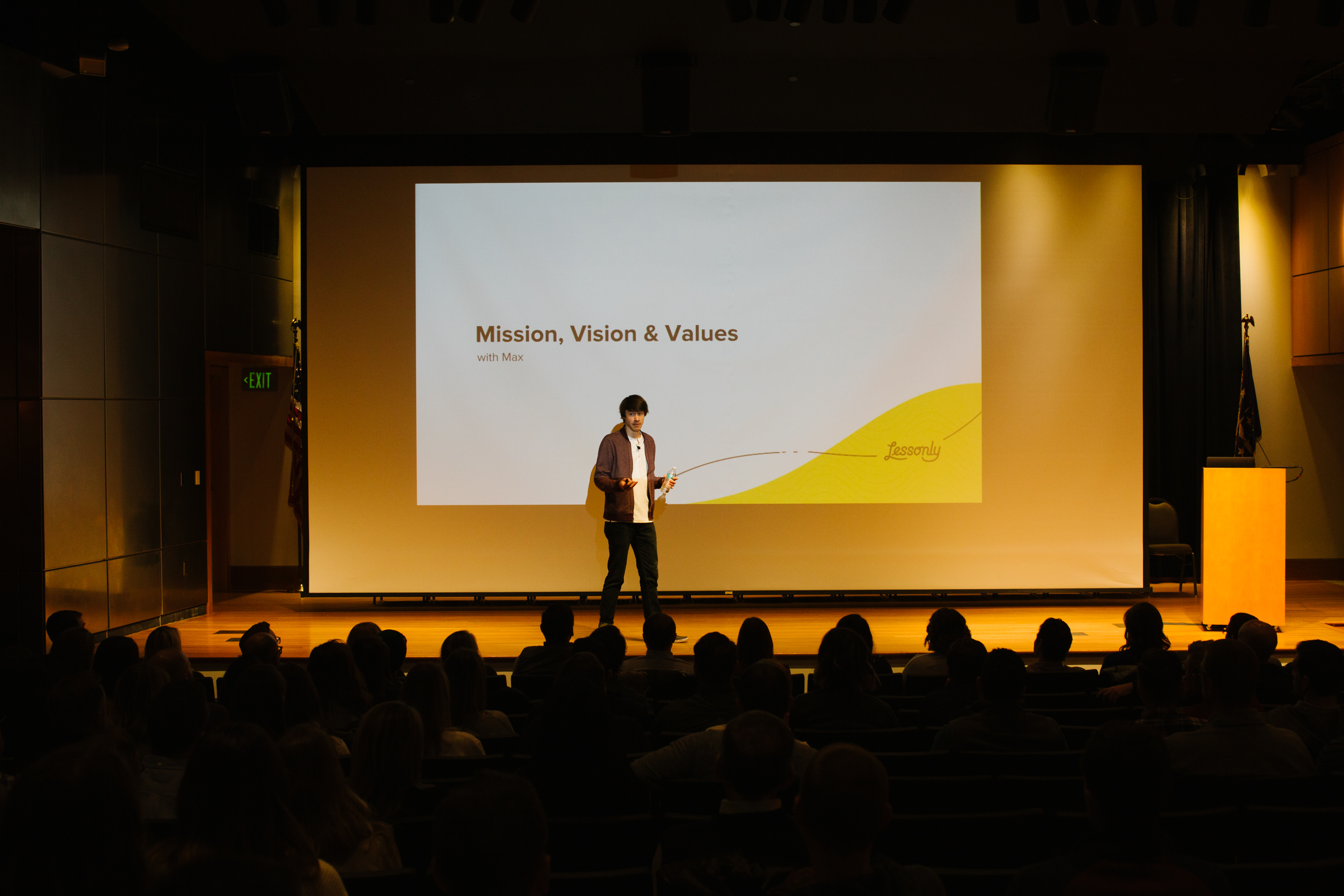 Ask clarifying questions
We all experience the curse of knowledge. That is, we assume everyone has learned and knows the same things we have. So we find ourselves omitting specific details about a project or using acronyms that not everyone around us knows. This type of under-explanation is exactly why we decided to incorporate asking clarifying questions as a new value for our team. Instead of walking around and assuming we need to know the answer, we learn the answer through clarifying questions (see two of our favorites here)!  
"To be sure,
You understand,
Ask for more.
Raise your hand."
—Max Yoder
Highlight what's working
Instead of spending all our time focused on problems, let's spend time talking about the actions and activities that really work. Speaking up and sharing our successes ensures that more people know what works and increases the chances that they replicate those same actions and activities. We believe in this so much that we invited 18 team members to the SOTU stage to highlight what worked best at Lessonly in 2018. It was a great way to celebrate the smallest of successes and drive momentum for the future.
"We tend to only highlight the things aren't working. We don't talk about what's working and that's a detriment to us. We will, and we must."
—Max Yoder
Get more agreements
All too often, we expect a behavior or action from someone without verbalizing it. And unspoken expectations lead to disappointment. When we make more explicit agreements, we're more likely to honestly communicate what we need from one another. This gives everyone the chance to say what they need, discuss what's possible, and agree on the next steps. Without agreements, we live in a world where everyone keeps their own. With agreements, we live in a world where we're on the same page and can, therefore, Do Better Work.
"Until we get into an agreement, we cannot judge or hold one another accountable for things that don't happen."
—Max Yoder
Do Better Work at Lessonly
It feels different to be part of Lessonly—and we like it that way. Our newest values remind us of our mission: We exist to help people Do Better Work so they can live better lives. If that's something that resonates with you, take a look at our open positions and apply to join the pack!