Annie is talented, young leader at a Fortune 500 company. She and her team are responsible for enabling and training frontline employees—from sales to customer service—on new product releases and process changes. Keeping thousands of people on the same page is no easy task—and even small changes applied at scale could impact millions of dollars of revenue.
Annie needs an easy way to evaluate the health and effectiveness of her training program.
We developed the Better Work Assessment for leaders like Annie. Executives, project owners, and trainers are constantly looking to measure the impact and effectiveness of training. This 8-minute quiz examines six key phases of a successful training program: Assess, Plan, Build, Learn, Practice, Perform.
Take the Better Work Assessment.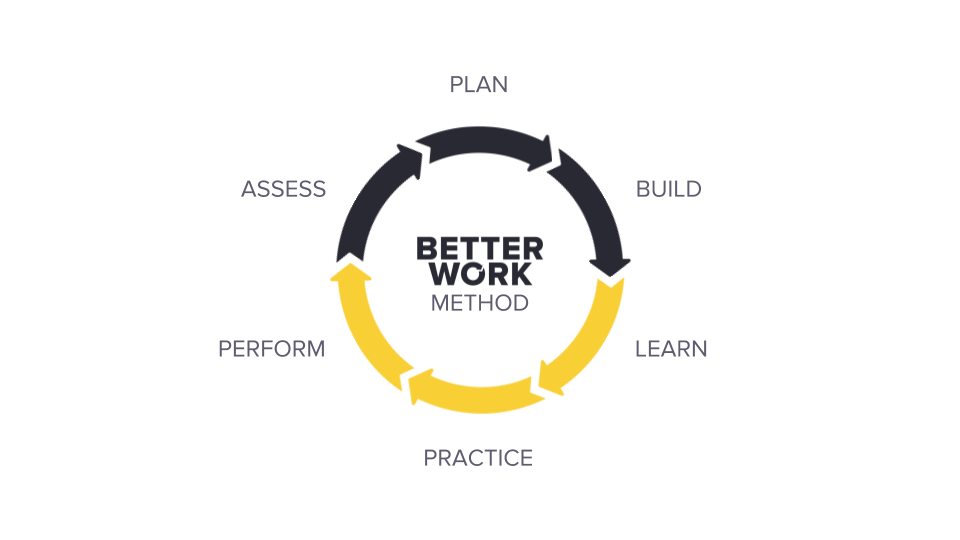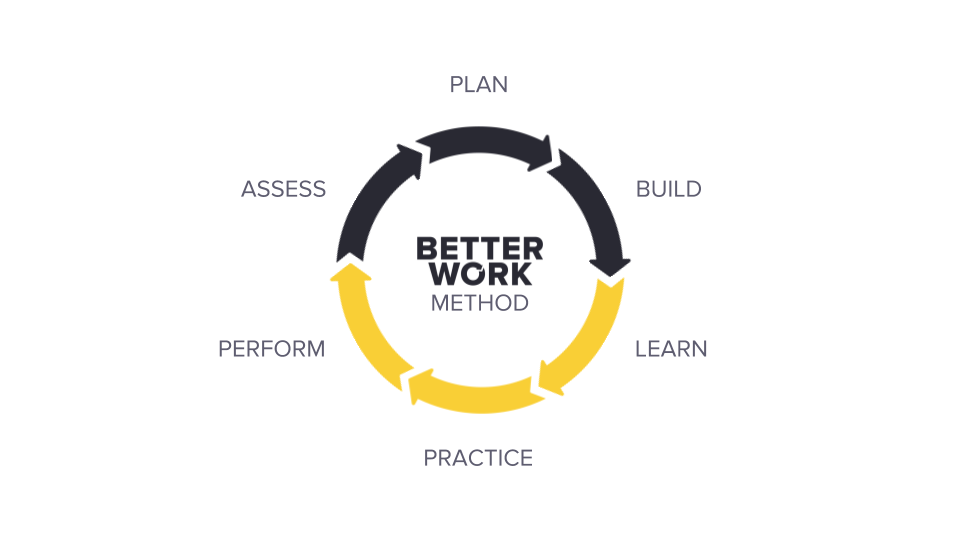 Hundreds of teams are using their Better Work Scores to improve their training programs. Here are five reasons to get yours today:

Reason 1: Benchmark your team
Author and CEO Max DuPree once noted that, "The first responsibility of a leader is to define reality." For those looking to do better work, the first step is knowledge. Perhaps you're not sure how your training program compares to other companies. Or maybe you just need an honest evaluation of your learning efforts. The Better Work Assessment provides an easy-to-understand, 100-point score to help you objectively evaluate your team training.
Reason 2: Identify opportunities for growth
Sometimes, constructive feedback can sting: Nobody likes knowing that their training program is struggling. But clearly identifying what areas need attention is invaluable—it's a roadmap for improvement. For example, my team needs some work on the planning stage. We're great at creating lessons, but need to be a bit more intentional about strategic planning and prioritization. Our low Better Work Score highlighted a weakness—and now we're intentionally working to address it.

Reason 3: Focus on maximizing strengths
It's easy to focus time and effort on what's failing. While knowing where your training program falls short is helpful—it's equally as valuable to know when it's thriving. For example, if your team received a high score on the Build phase, you're probably churning out useful learning content. Why not celebrate that strength and capitalize on it to develop some practice scenarios to increase retention? Appreciating and doubling down on your team's strengths is just another way to fuel training improvement and growth.

Reason 4: Get tactical tips
Sometimes, we just need a little inspiration. After completing the Better Work Assessment, we offer 18 tangible tips for improving your training program—and your Better Work Score. These best practices are based on insights from over a million learners at 500+ companies. Knowing the key tenets of training success could inspire you and your team to try something different or develop a new training initiative.

Reason 5: Do Better Work
The heart of the Better Work Assessment is, you guessed it, helping teams do better work. At Lessonly, we believe that great training empowers teams to succeed at their jobs. When people feel confident and capable at work, it positively impacts every aspect of their lives. Our hope is that the Better Work Method and Assessment will help teams across the globe achieve operational excellence that leads from better work to better lives. 

Take the free online assessment today
The Better Work Assessment is entirely free. Whether you're a Lessonly customer or you use another training platform—this tool exists to help you and your team succeed. Click here to get started and feel free to reach out if you'd like to discuss your score!