Our mission at Lessonly is simple. We help people do better work so they can live better lives. That idea of doing better work has inspired us this year as we continue to build online training software that empowers millions of people to learn, practice, and perform at work.
The average adult spends 60% of their life working—and we want every single team, whether they use Lessonly or not, to have the opportunity to thrive at what they do. That's why we created the Better Work Assessment.
This 22-question quiz enables any person—on a team of five or five thousand—to examine the health of their training program. The assessment walks through the six essential steps of building a high-performing training program. After a few multiple-choice questions, assessment-takers will get a Better Work Score out of 100. The higher your score, the better your training program.
We didn't make up this assessment out of thin air. For the past 5 years, we've helped some of the world's largest companies develop award-winning training programs. What we found was that the same six steps continued to appear when training uber-successful customer service and sales teams. We now call this the Better Work Method.
Want to know the six steps? Take the assessment now, or read on.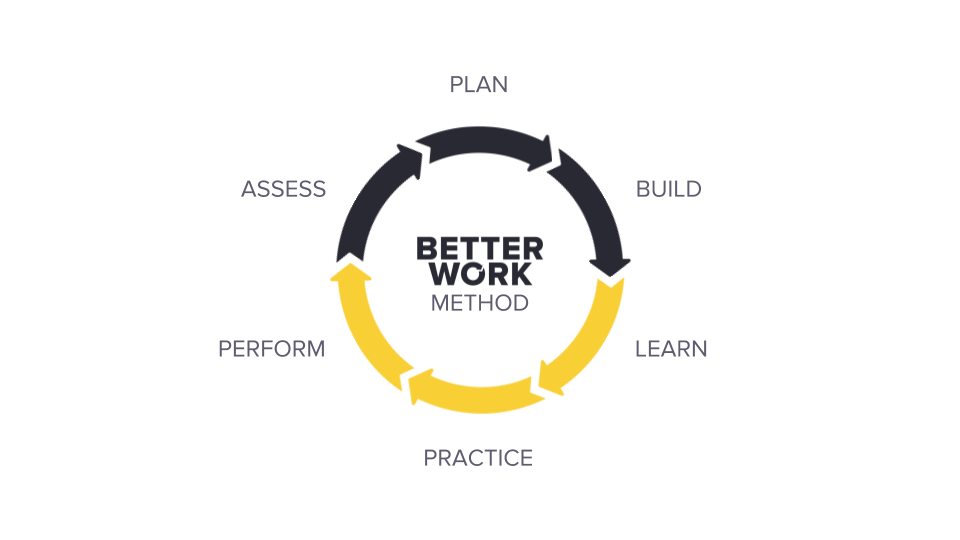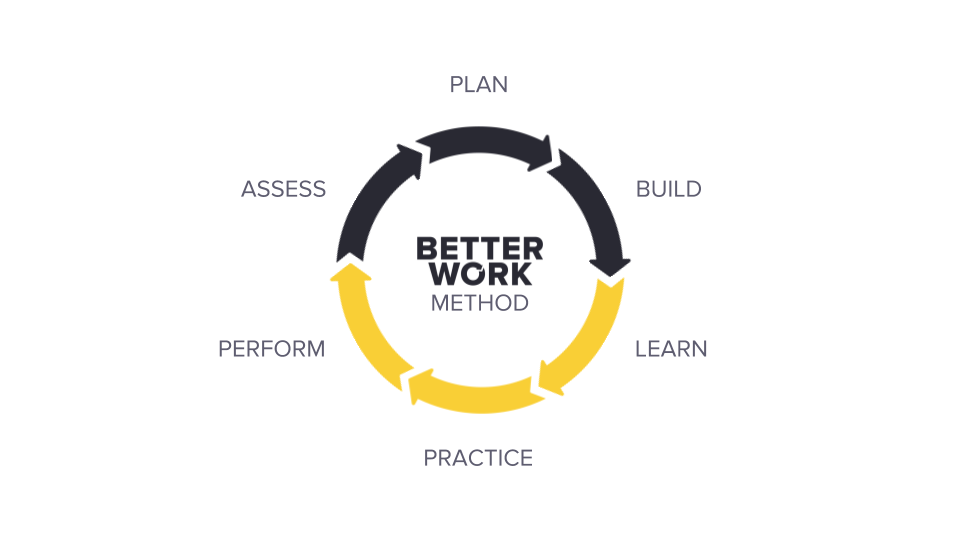 Here's a brief overview of each of the six steps of the Better Work Method:
ASSESS | Gather Needs and Inputs
Excellent assessment is about listening to your people, data, and the market. The goal of this phase is to identify successes and challenges in training and accurately gauge your team's learning needs. Inputs might include CRM data, surveys, company/department goals, thought leadership, etc. The point is: Your team needs the right data and information to make educated decisions about training.
PLAN | Prioritize for Impact
Superior planning identifies your team's most essential objectives and outcomes. Based on the inputs from the Assess step, begin to make decisions about what training content should be a priority. Then, intentionally set milestones for creation and delivery. Great planning can save your team hours of fruitless doing.
BUILD | Create Quickly and Collaboratively
Now it's time to start building your training program. Transferring information isn't helpful if it's difficult to digest and put into action. When leaders work with front-line teammates to build and iterate bite-sized content—magic starts to happen.
LEARN | Meet Learners Where They Are
When we think of learning, we often think of teachers lecturing in front of a blackboard, but training doesn't have to be like this. Employee preferences are changing, and now the mode of delivery (online, mobile, easy-to-consume) is more important than ever. Learning isn't just employees consuming content, but pushing training content to teammates—anywhere, anytime—so they can quickly solve problems in their moment of need. That type of contextual learning is game-changing for a customer service or sales team.
PRACTICE | Rehearse, Refine, Repeat
The best teams practice—just ask any winning sports team. The same applies to training at work. First-rate practice reinforces recently learned skills and information with realistic practice scenarios and coaching. A regular cadence of practice ensures consistent feedback so that reps can continue to hone their skills.
PERFORM | Do Better Work
In the end, training is about delivering results. Better performance begins by empowering the organization to continuously improve, deliver, and quantify results. Your training program must help your team accomplish and exceed their goals—that's a key piece of doing better work!
Want to see how your team's training stacks up? Get your Better Work Score.
The beauty of the Better Work Method is that it's all about continuous rapid improvement. Once your team hits the Perform stage, it's time to start using those successful metrics to inform your next Assess phase. This cycle of constant growth and improvement is how we help our customers get superior results time and time again.
In the end—we want to help every team on Earth have great training. That's why the Better Work Assessment is free to anyone, anywhere. Just click here to get your Better Work Score.
We hope you will—because the first step to better lives is better work.