This morning, the Lessonly marketing team gathered for our daily standup. A soaring mountain landscape filled the TV screen. That's not our screensaver though—it's Alex. Alex is one of Lessonly's remote teammates, and today, he's conferencing in from Jackson Hole, Wyoming. Tough life, right?

In all seriousness, Lessonly's remote workers are some of our hardest-working and most valued teammates. We're no exception to the growing remote work trend: Right now, about 10% of our team works remotely. While some, like Alex, work from other parts of the U.S., other team members have a much farther digital commute to work—all the way from Nigeria and Kenya.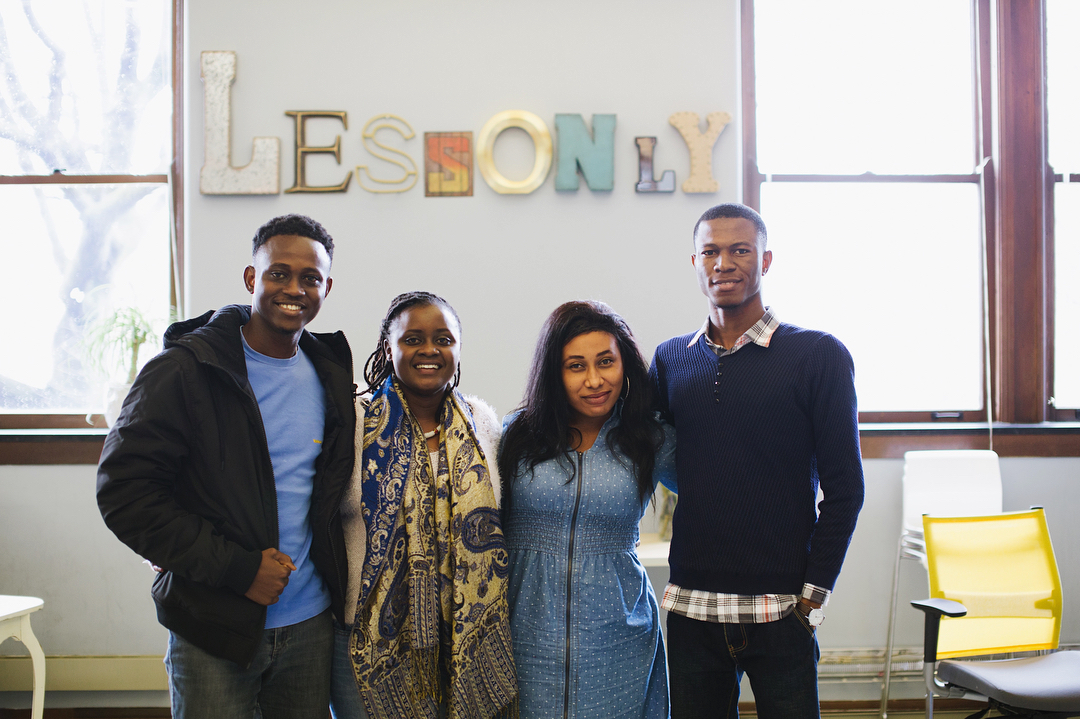 Meet Raphael, Waithira, Susan, and Joshua. Officially, they work for an organization called Andela—but we're proud to call them Lessonly llamas.

Andela hires and trains software developers across the globe and places them at some of the world's leading software companies. We're lucky to have Susan, Raphael, Joshua, and Waithira as part of our product and engineering team. Waithira lives in Nairobi, Kenya; while the other three hail from Lagos, Nigeria.

Our African teammates work on some of the most exciting pieces of our product, including Learning Paths and integrations with Zendesk, Salesforce, and Chrome. They've also had a hand in building our internal reporting, helping to develop contextual learning, and assuring that product code is written with excellence.
But coordinating remote work across an ocean—and multiple time zones—isn't easy. An HBR study in 2017 found that about 52% of employees have the option to work remotely—but other studies suggest that as few as 12% actually work remotely full-time. As flexible work becomes increasingly common, leaders and managers will need to cultivate intentional new strategies to train and engage these employees in company life. Here are a few tactics that have helped us do better remote work.
Keep everyone on the same page
Technology makes it easier than ever to communicate and share ideas globally. While it's easy to use Slack and video calls to chat back and forth, transferring knowledge and cultural norms across continents is more challenging. Using a tool like Lessonly to ensure that every team member—from Denver to Nairobi—sees the same information is invaluable.

We also hold an all-team meeting every week where we make major announcements, discuss the latest business updates, and celebrate one another. We offer remote workers the ability to join the meeting via video conference so that they can be part of the team, ask questions, and join in on team camaraderie. These meetings are an opportunity for the entire organization to connect and stay up-to-date.

Joshua agreed, "I love all-team meetings. Seeing the impact of our work is important, and knowing that what we do benefits people is really helpful."
Be together
A few weeks ago, our Andela teammates made the long flight from Africa to join us for two weeks in Indy. The chance to be together was worth every penny of the flights from Kenya and Nigeria. Whether working remotely from another state—or another country—finding opportunities to meet in person pays remarkable dividends.

Spending some time working right next to one another was invaluable for our product and engineering team. "It was much better to connect in real life," Joshua added. "I've really grown technically through this. When you're writing code for Lessonly, we have to account for millions of people using it. The Lessonly team is very helpful and supportive of me."

Being in the same place takes intentionality, time, and money, but we believe it's an essential piece of doing great remote work.
Invest time
Some organizations think of contractors as expendable "guns for hire". But wholeheartedly integrating our Andela friends as members of our team has led to untold benefits. This means stateside managers meet one-on-one with our African teammates—just like they would with a local hire. Wathira is part of Lessonly's QA team, but spending one-on-one time with Alex, our Senior Quality Engineer is immensely valuable.

She noted, "Meeting one-on-one in person with Alex has really improved our conversations—and now we work better together than we did before. It's easier to talk about issues and ask questions."

One of the Andela team's favorite parts of their visit was spending time with our CEO, Max. Raphael added, "Max was ready to pour out knowledge, but asked about us most of the time. His personality was welcoming and he truly wanted to help us."

When an entire team, from a single manager to the CEO, decides that investment in remote workers is a priority—distant employees move from feeling like an afterthought to an engaged member of the team.
Foster valuable connections
Our partnership with the Andela team doesn't just benefit our product or our operations. The relationships we share help all of us grow together.

Susan noted, "Working with Lessonly has been awesome. The culture is so welcoming—and they really encourage us to do better work." The rest of the Andela team nodded in agreement as Susan continued, "The Lessonly team appreciates every piece of work I do, which makes me want to do more. I see a real future with Lessonly."

Our team in Indianapolis was equally inspired by their visit. Steve Grossi, one of our lead software engineers added:
"After working closely with Joshua, Raphael, Susan, and Waithira for so long, I felt like we'd gotten to know them. But there's really nothing like meeting face-to-face, eating meals together, and showing them around Indy. They even showed us around! My favorite memory was a big lunch together at a Nigerian restaurant on the west side.
As for me, I'll remember the Andela team laughing and enjoying a snowy day in Indy. It took me a second to understand why they had their phones out to capture the moment: It was their first snowfall.

For our team, after a long winter in Indy, the snow was an annoyance. But the wonder of the Andela team prompted my renewed appreciation for the slushy mix. This holds true for our entire business: Susan, Raphael, Joshua, and Waithira—like so many remote workers—bring a new perspective to our team. They don't live in the same city, come to same office, or even live on the same continent that we do. That fresh insight makes our product, and our team, better than ever.
Remote teams do better work with Lessonly
Lessonly's online and remote training software enables teams like ours to engage with remote employees and drive change at scale. Customer service teams like Smart Rhino rely on Lessonly to train a distributed team of agents and deliver a consistent customer experience. Want to see Lessonly in action? Take a tour today.