The whole idea started with Director of Marketing Mitch Causey.
"I was looking at companies like MailChimp and thought we should have a mascot," Mitch said. "I came up with the llama because of its fun alliteration with Lessonly." When he asked others what they thought, Director of Client Experience Corey Kime scoffed.
But when Lessonly moved into Schoolhouse #9 on Fulton Street in fall 2014, Mitch's wife drew a llama on the chalkboard to get Corey's goat. That llama sketch continues to endure, now two years old, greeting visitors to the office.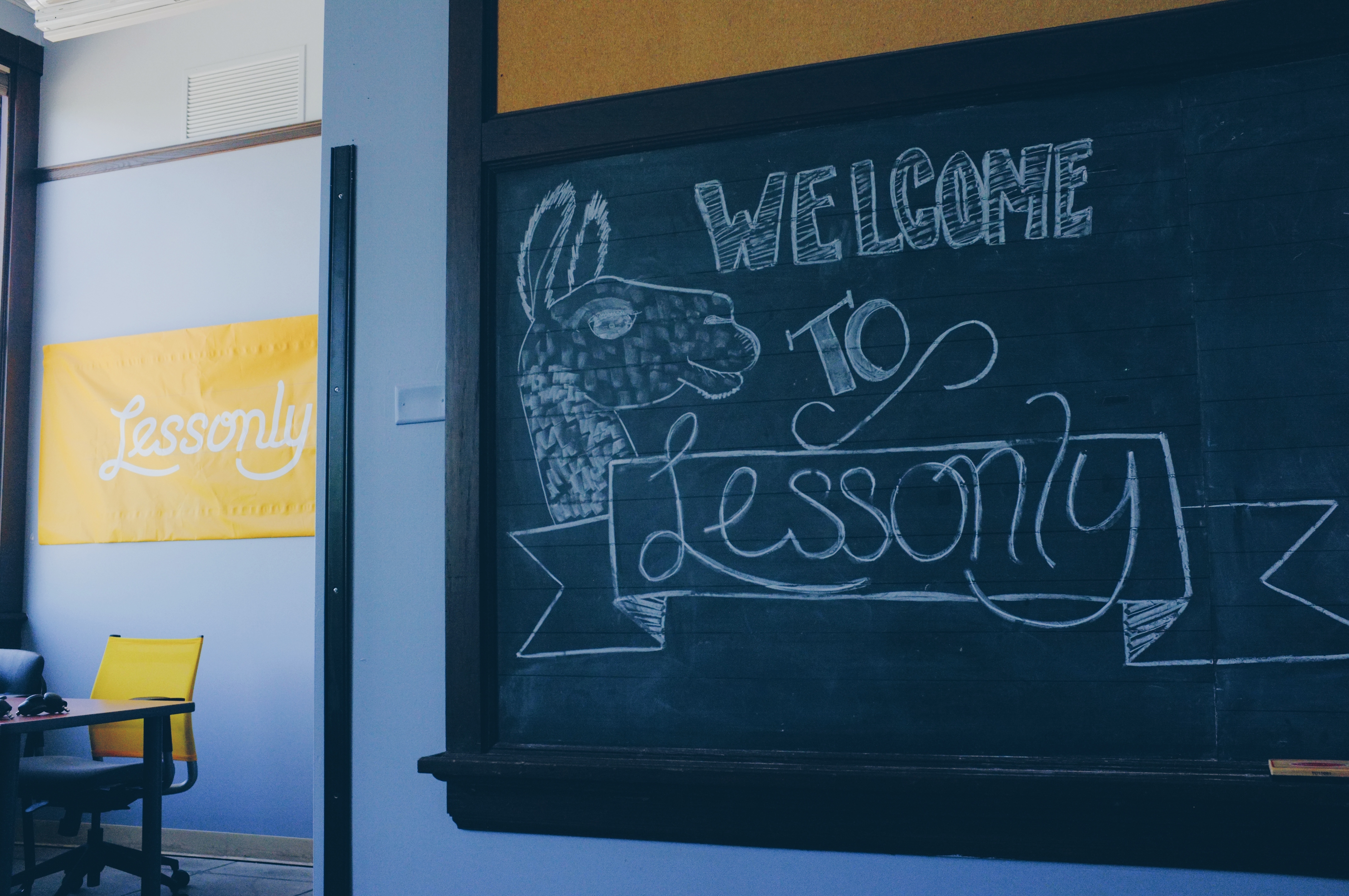 In August 2016, the Lessonly leadership team wanted something exciting on the t-shirts they'd hand out to the team after a biannual State of the Union meeting. They asked Jenny Tod, newly-hired Design Lead, and she quickly stylized the chalkboard llama into a full-blown character. The t-shirts won over the excited Lessonly employees. Soon, the llama began showing up in blog posts, eBooks, and other pieces of swag like buttons, stickers, playing cards, and beverage sweaters.
Dreamforce in October proved that llama love isn't confined to employees. Visitors to the Lessonly booth snatched up all the llama buttons and stickers they could. Now each quarter, one particularly enterprising employee is rewarded with The Golden Llama statue. Visit the Lessonly headquarters in Indy, and you'll see llama lamps, salt and pepper shakers, dish towels, and stuffed animals throughout the office. And at the end of the year? The llama was featured prominently on the company holiday cards.
¿Cómo se llama?
As we brought the llama further into Lessonly's branding, one question remained: What's its name? After much debate and a companywide poll (through a Lessonly Lesson, of course), the Lessonly team named the mascot… (drumroll, please):
Ollie Llama
Sure, a fun mascot garners attention on crowded convention floors and in a LinkedIn post, but we also think Ollie embodies a lot of the characteristics we strive to embody: approachable, intelligent, hard-working, and a little quirky.
You know how that little gecko reminds everyone they can save 15% or more on car insurance? Well, Ollie likes to remind everyone that Lessonly makes training 52% more efficient. We think that's a welcome addition to any workplace.