Free Customer Service Standards Example
Learn how to define your company's customer service standards with this guide.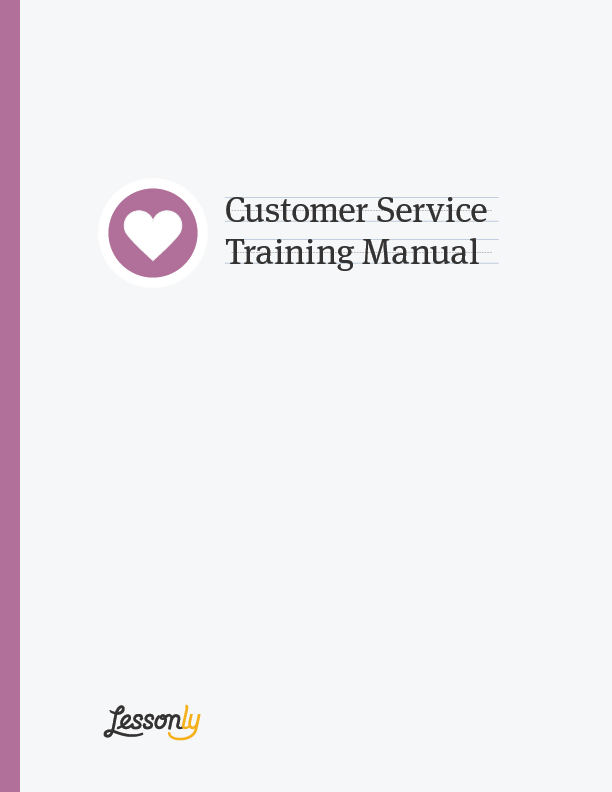 Powerful training, simplified
Join the hundreds of teams—from Fortune 100 enterprises to local businesses—who use Lessonly to onboard, train, and continuously enable millions of employees to learn, practice, and do better work.
Customer Service Standards
Think back to the last time you had a good customer experience. Now think to the last time you had a bad one. What made the difference? When you hang up the phone do you decide then if it was a good or bad experience? Everyone's customer service standards definition is a little different. We each have our own customer service standards as customers, but as an internal stakeholder it is a little different.
First, you need to decide how great your customer service is going to be then you need to decide how you are going to train your employees to know that. You need to establish an amazing training program to help you reach customer service standards of excellence. In the download above, you'll find a customer service training plan that will help you train your employees and establish a customer service standards policy.
If you want your brand to be recognized as a top customer service company and not tweeted about negatively, you need to also evaluate customer service industry standards, which are higher than ever. Many customers now think that customer service standards examples should include every contact point, from email to telephone to Twitter to Instagram to Facebook.
Customer Service Definition
We often see customer service articles and ideas on who to improve customer service, but we very rarely define customer service. That may sound weird at first. "What is this? Everyone knows the meaning of customer service. It's simply making the customer happy." Making the customer happy has to be within reason for the business's sake, the definition is more complicated than that. A quality customer service definition to Mo McKibbin from Groove defines customer service as "To provide the most seamless and stress-free experience using a product or service from top to bottom."
But, it seems like everyone has different standards of customer service. We expect twitter engagement from some and from others we just expect great service when we're in the store. To define quality customer service, we have to look at the customer service industry definition. You need to know what other companies in your space are doing for customer service that you can improve upon.
Taking care of the customer is one of the most important things in any business. If you have no customer, you have no business. So, creating a customer care definition and guidelines for your business may be one of the most important things you can do. You will find a great outline on how to do this in the download above.
Customer Service Goals
Now you have your definitions in place and you have your employees up to speed on the importance of customer service and what it means to your business. There may still be room left to grow. To figure out how to improve customer service for your team seems like a daunting task, which is why we took it on for you!
Improving customer service skills shouldn't have to be hard and boring; it should be fun and entertaining and engaging. In the download above and the customer service games download, you will find fun ideas to improve customer service for your team and break up the regular routine. It includes anything from ice-breakers to training team-builders.
Consider setting some customer service goals, whether that is a renewal metric, a collection of survey results, or calls answered. Although we would tend to stray away from the calls answered in favor of the other two in this example, calls answered can still be an important metric.
One thing to consider on your quest to improve customer service is the difference between internal and external customers. If your business has internal customers, or customers that work within the same organization as you, your customer service strategy may differ. Internal customers may be given priority over your external customers or the opposite.
Customer Service Skills
Improving your team's customer service skills requires several different facets of attributes. From communication skills to listening skills, you need to consider every aspect of training your customer service team.
Consider integrating a weekly customer service article to keep your team up on service industry news. If you are looking for more customer service advice, feel free to check out our blog after the download above.
Like salespeople, customer service representatives must continue to strive to be better. We can all always improve on our communication without even being in customer service. From managers to employees, it's important to always better our communication.
Another skill to improve upon is our patience. Today, we want things instantly and when we don't have it instantly, it's easy to get frustrated. Also, customer service representatives have to deal with what seems like a constant stream of irate customers. Being able to take a moment and be patient with them rather than getting upset in return, is a great skill to have. If representatives cannot be patient, it's not likely they will last long in customer service.
Elevate your team to extraordinary customer service with our customer service manual.
Ritz-Carlton Customer Service
The Ritz-Carlton is renowned for having outstanding customer service. Its commitment to customer service is in the Ritz Carlton mission statement, "The Ritz-Carlton Hotel is a place where the genuine care and comfort of our guests is our highest mission.
We pledge to provide the finest personal service and facilities for our guests who will always enjoy a warm, relaxed, yet refined ambiance.
The Ritz-Carlton experience enlivens the senses, instills well-being, and fulfills even the unexpressed wishes and needs of our guests."
If Ritz-Carlton is going to state the importance of customer service to its business in its mission statement, just imagine the Ritz-Carlton training manual. If your company is as committed to customer service as the Ritz-Carlton, consider altering your mission statement, if necessary, to reflect that.
The best way to emphasize the importance of customer service to new employees is to emphasize customer service training. The Ritz-Carlton customer service training is now even available to attend outside of the Ritz-Carlton. Through great customer service, it built a reputation that outsiders are willing to pay to learn how to emulate them.
The Ritz-Carlton values shine through in its service. The hotel focuses on forming relationships with clientele rather than giving them a room for the night and sending them on their way. You can do the same thing with your customer service. Build a relationship with your customers and find more advice on customer service in the download above.