Do Better Work with Lessonly
Lessonly is the powerfully simple training software that helps sales and customer support teams learn and practice like never before.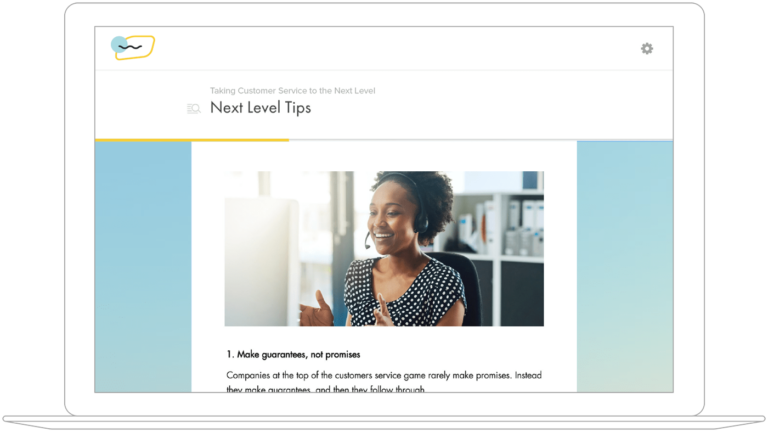 The Leading Online Training Software
With Lessonly, companies and managers quickly transform knowledge into shareable lessons and resources, engage employees through interactive feedback loops, accelerate rep and team performance, and measure the impact of better learning across their organizations.
Ambitious Customers. Real Results.
Lessonly Competitors & Lessonly Alternatives
Lessonly Reviews
At Lessonly, our customers are our heroes. They are doing some amazing things with our software, and we're proud to help hundreds of teams Do Better Work. Thanks to Lessonly customers across the globe, Lessonly is a highly-rated learning management system. Our features are designed purposefully to meet the needs of frontline teams—and we're committed to helping those teams exceed their goals.
In addition to our online training software, a new customer can expect to have one primary Lessonly contact—your Customer Experience Manager. From getting employees set up with a Lessonly login to strategizing about learning or offering quarterly reviews, your CX Manager is your dedicated guide to Better Work. Don't believe us? Just ask some of our customers.
The best way to get started with your search for a sales training software is to sit down and map out your entire process. What do you do, who are your customers, where do you reach these customers, how do you reach them, how much does it cost, and how do you appeal to these customers? Answering a few of these beginning questions will point you in the right direction toward putting together a sales training program, which you can then pair with a sales training software. Figuring a way for these two to work hand-in-hand is the secret to training great employees and enabling plenty of sales.
Lessonly Features
Hundreds of companies all over the world use Lessonly to offer deliver superior customer service, close more deals, and train their teammates. Our lesson building is easy-to-use, so with minimal to no training, any employee can build a lesson. Lessonly Practice is a suite of tools that help employees hone their skills through email practice, chat practice, video response, support ticket handling, and more. Measure training success with Insights, and track learner satisfaction, completion, and other data.
Our entire platform is designed to help admins, managers, and learners alike Do Better Work and focus on what matters most: more closed deals and better customer service. Integrate Lessonly with the tools your team uses most—like Salesforce, Zendesk, or Slack—to maximize the impact of learning.
In addition to these tools, Lessonly offers best-in-class features including learning paths, roles, tags, an Open API, a university of sample lessons, bulk uploading, in-person training tools, webhooks, PDF exporting, smart groups, single sign-on, unlimited lessons, and much more.
Want to see Lessonly in action? Take a tour, get a demo, or chat with us at the bottom right corner of your screen.
Lessonly Competitors
There are many companies that offer learning management systems—but many are outdated or put the needs of the administration above the learner experience of the learner. At Lessonly, we put learners first. That's why our software description reads: powerfully simple training software.
From small things, like the Lessonly logo and the typography we use, to big things like our suite of Practice features, we're committed to building an online training environment that helps people grow and teams accomplish their goals. We exist to help teams learn, practice, and Do Better Work, and our team will walk with you every step of the way through your training journey. That's what makes Lessonly more than just a tool—we're a wholehearted partner in learning.
For more about Lessonly alternatives or Lessonly pricing, read on!
Lessonly Alternatives
There a many ways to build a training program, and our hope is to help teams across the world Do Better Work with our online training software. While alternatives like in-person training or legacy LMSs exist, Lessonly is purpose-built to meet the needs of sales and support teams. We often hear stories about companies that start a free trial or contract with other learning tools, but quickly find themselves bogged down with creating expensive learning modules.
There are countless sales enablement tools on the market, but teams like Trunk Club, U.S. Cellular, and Emarsys use Lessonly to keep reps always engaged and always "in the know." Lessonly offers reps enablement in their moment of need, so they can offer customers value and close the deal.
Customer support reps—and entire support teams—also find that Lessonly is a meaningful addition to their tech stack. While a knowledge base might be a great repository of knowledge for your team, Lessonly offers more intentional training, contextual learning, and practice that helps reps level up their skills and deliver when in matters most—when they're talking with customers.
Lessonly Pricing
Lessonly offers three packages to customers—Pro, Pro+Coaching, and custom packages. Our goal is to help your team learning succeed, and our packages are designed to give teams the tools they need most. For teams that focus on sales or customer service generally find that Pro+Coaching, and the practice tools included, are the most helpful purchase for their team. Still not sure about Lessonly? Learn more about our pricing and packaging, or get a demo here.