Learning Management System Comparison
Today, comparison shopping is the norm for everything from new toothpaste to new cars. With so many products, and so many ways to buy them, major purchases can feel daunting and overwhelming. This can be true for Learning Management System (LMS) software. With so many platforms on the market, it's important to weigh the options and, based on your team's needs, identify the best LMS for your organization.
The best LMS systems aren't necessarily the most expensive—or the most affordable. Nor is the best LMS software always the one with the most features. The "best"
What do their users say? (Reviews)

How updated is their technology and approach?

Do their features meet your needs?

Can they support tribal knowledge learning?

Is their software a "platform" or point solution"?

Can you build, share, track in one place?

Are they just software, or will they partner with you?

Does their pricing model fit your budget?
This learning management system evaluation checklist is designed to help you make informed, intentional decisions as you perform a comparison of LMS and determine the best LMS tools for your team.
The rest of this page is here to help you on your LMS comparison journey as you compare, research, and ultimately decide on a learning software that will help your team level up their performance. Below, you'll learn about Lessonly and survey the modern LMS landscape. Balance the deciding factors—from price and functionality, to vendor relationships and reviews—to make a smart business decision in choosing the best LMS.
When doing an LMS systems comparison and researching software reviews, it's critical to take a long, hard look at what real customers say about their experience. The best LMS reviews are honest analyses of what's great about a software, what could be improved, and what's not working at all.
Don't just take a company's word that their platform is the best product for you and your team. Read LMS software reviews so you can get a better sense of what other people—real paying customers—are saying about each LMS.
At Lessonly, we take pride in putting the learner first. In doing so, we've received great feedback from our customers. As you read our reviews, you'll see how much our customers mean to us and how our learning software is making a tangible impact on teams and businesses across the globe. For many of these companies, Lessonly has become an integral part of their culture. Nothing makes us happier than when we hear from teams who have used our software to learn and grow.
Take a look at some of our learning management system software reviews and see for yourself how Lessonly is helping teams everywhere do better work.
LMS Comparison Matrix
When you think of new employee training, what comes to mind? Onboarding packets? Binders passed down the ranks? Uninspiring PowerPoint presentations? Unfortunately, many companies are still reliant upon traditional learning and training methods that are simply outdated in today's fast-paced and technology-driven world.
Some traditional methods—like job shadowing or face-to-face meetings—are highly effective ways of teaching and learning job skills. However, they're neither efficient nor scalable. More modern methods, like shared docs and resources, are highly efficient. But they're ineffective in the grand scheme of a complete learning experience.
With evolving technology at our disposal, modern learning needs to be both effective and efficient. It might appear that modern tools like webinars, videos, and shared docs can achieve that perfect balance. However, nothing is more effective and efficient than interactive, digitized training created and delivered via a learning management system. Below, you'll see this illustrated in our learning management system comparison matrix.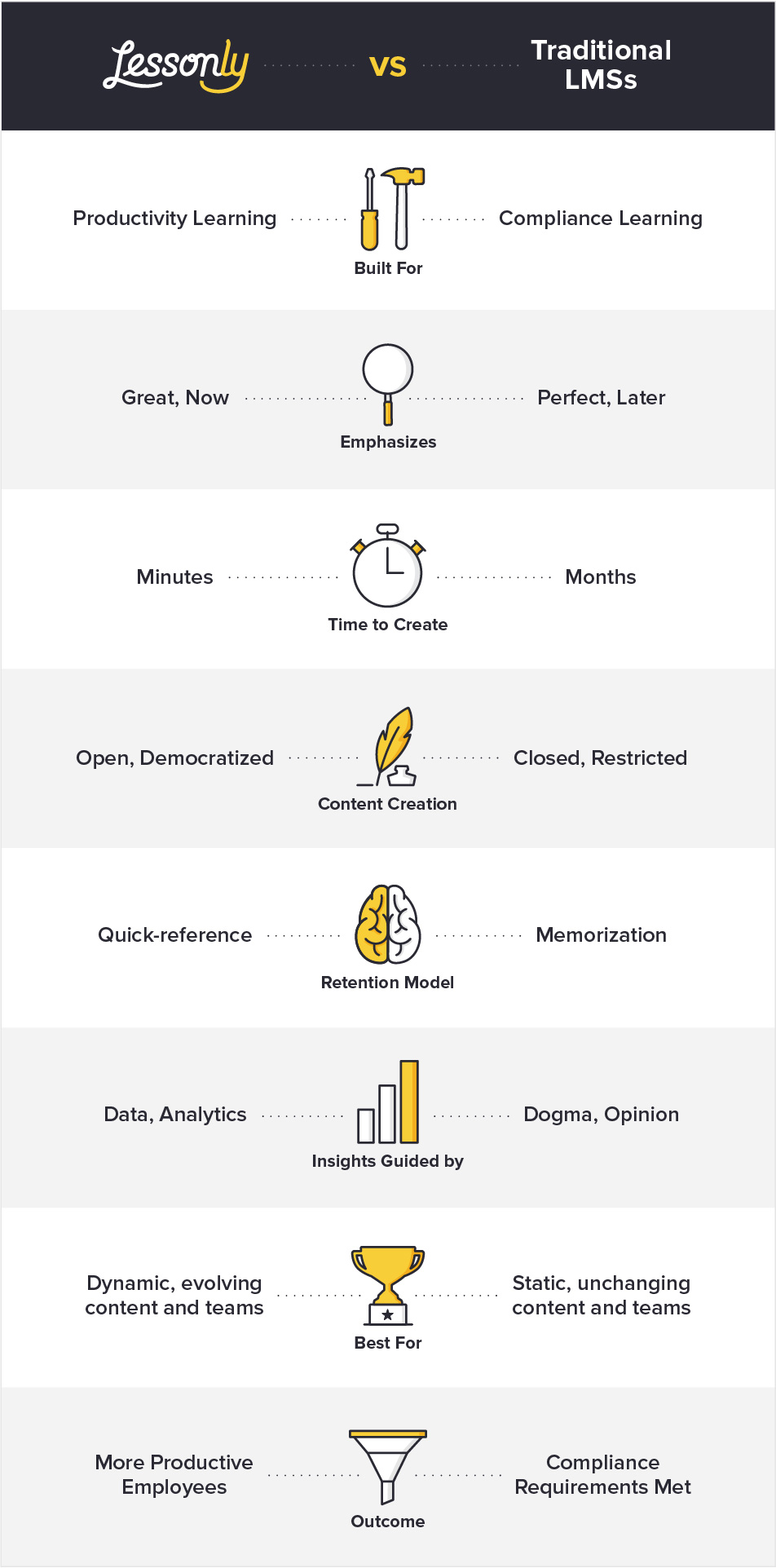 LEFT: This LMS comparison chart is designed to help visualize just how efficient and effective the right learning software can be. Modern learning is all about finding the sweet spot between effective training and optimized costs—at scale. Lessonly is designed to be at the pinnacle of both efficiency and effectiveness.
RIGHT: While the LMS comparison table is an insightful way to see the progression of modern learning, what's missing is a picture of the future. What's next when it comes to learning and training in the modern workplace?
For one, we believe democratized, or crowdsourced, learning is going to be a big hit. Not sure what democratized learning means? You can read all about it here.
In addition, we're looking for relatively young technologies like AI, VR, and AR to find a foothold in the industry and make an impact on learning.
And finally, we believe the next logical step is to move beyond learning management and into learning automation.
Wouldn't that be something? It's not as far out of reach as you might think. See for yourself, and read more about all of these future predictions, in our 2016-2017 Learning Trends Report.
One of the most critical aspects of researching and adopting a new LMS is getting a clear understanding of learning management system features and benefits. Many products boast dozens of bells and whistles, but until you take a closer look at what different features do and mean, you probably won't know exactly what the best LMS is for your team.
We've put together the learning management system features list below to assist a proper LMS comparison. Take a look at the important features below and start making your best LMS list now.
Speed vs Fidelity
At Lessonly, we're in the business of helping customers discover, explore, and implement learning management systems. In our years of experience with hundreds customers of all types, we've observed that, typically, LMS seekers fall into one of two categories: those who prioritize fidelity, and those who prioritize speed.
Both speed and fidelity are positive qualities in regard to learning and training. Historically, fidelity has been prioritized and is suited for content that's fairly permanent, static, and highly-produced. Fidelity-style content is what traditional LMSs were designed to do—train on compliance-driven topics like anti-bribery training, sexual harassment training, and adhering to OSHA standards.
On the other hand, speed refers to training content that changes quickly, and covers more job-specific information like optimizing social media posts, logging new tickets in Zendesk, or selling to target verticals. Speed-driven training uses content with a lower production value, but in turn, takes less time to create, upload, and is relatively painless to edit and update—think iPhone videos, blog posts, and screenshots.
To thrive in today's fast-paced market, businesses must keep up with ever-changing technologies, marketing and sales tactics, and industry benchmarks. We designed our software to prioritize speed over fidelity, knowing that productivity learning is what drives business outcomes—like more sales and better customer support—and ultimately gives a greater ROI on learning investments.
Decide which is more important to your team and organization—fidelity or speed—and add these features to your own LMS feature comparison chart (or reference the one above). If you're interested in more information about speed vs. fidelity, read more here.
Access vs Mastery
In studying an LMS feature comparison matrix, it's easy to get wrapped up in the details of structure and content. But in weighing LMS key features, it's also important to consider how the learning content is delivered and accessed?
At Lessonly, we believe in unlimited, universal access to learning. It's part of our learner-first philosophy. Because of that belief, our LMS is accessible across many different devices and platforms so that learners can access key job information anywhere, at anytime. Mobile platforms allow your team to access training when it's convenient for them, whether on their phones tablets, or in remote locations.
Prioritizing access over mastery means prioritizing efficiency in ramping up new employees. If you expect employees to completely master new learning content before diving into their jobs, you end up spending too much time and money on training, while robbing your employees of the opportunity to learn by doing. With access-driven LMSs, employees can reference the information they need, when they need it, ultimately saving you both time.
Analytics vs Dogma
The best businesses measure, track, and analyze everything—including learning and employee training. But without an LMS, tracking learning can be a difficult and abstract task.
Features of a good LMS include a robust analytics portal, with different ways to track, measure, and report on learning. Most LMSs don't have the capacity to deliver the helpful analytics necessary to make informed, data-driven decisions about employee and team learning.
Because we understand the importance of quantifying the ROI of learning and training, we've built sophisticated analytics into the Lessonly platform. Measuring impactful employee growth and learning milestones gives visibility into how training is adding to your bottom line and your company-wide KPIs.
Functions of learning management systems vary widely between different products, so make sure the one you select champions analytics in employee learning.
Point Solutions vs. Dynamic LMS Platforms
Point Solutions
Think back to the days when you were a student. Do you remember having to study for tests? How many late nights did you stay up to memorize specific sets of information—cramming in formulas, vocabulary words, definitions, and details—only to forget them all after the test.
You'll quickly discover as you do an LMS software comparison that some LMSs are simply point solutions. Point solutions are extremely task-oriented; they're designed to get from Point A to Point B (hence the name). But point solutions usually don't meet a full scope of needs in a way that's effective or seamless, let alone in a way that goes above and beyond.
When doing an LMS products comparison, make sure you're not accidentally getting stuck with a point solution. These tools might seem like robust learning management system software on the outside, but on the inside, they lack engaging in-depth learning features and a framework where high-performance employees can learn, grow, and thrive.
Dynamic LMS Platforms
The best LMS platforms are much more than point solutions. Because we believe access is critical to the success of modern companies, we make sure our users can access Lessonly anytime, anywhere. And that goes beyond just lessons. When performing an LMS platforms comparison, make sure not to overlook accessibility regarding integrations
way do simple online searches. If your team uses Salesforce, our Salesforce integration brings Lessonly directly into Sales Cloud and Service Cloud. Finally, our Slack integration allows employees to search for learning content within their Slack channels. Each of these integrations is designed to make learning an convenient, easy, and integral aspect of work.
LCMS
A system comparison on the differences among LMSs likely reveals some LCMSs as well. In the past, learning content management systems required multiple tools to build and distribute quality lessons and training modules.
Today, however, the landscape has changed. LMSs and LCMSs have become one in the same. With platforms like Lessonly combining complex content creation capabilities with distribution and tracking tools, the need for separate content management systems is rapidly becoming obsolete.
LMS
Before the days of robust LMSs, authoring tools were required to build learning content. Today, modern learning management systems have mostly evolved into multi-functional platforms for creating, distributing, and tracking learning content. While some LMSs are still catching up, Lessonly has championed the all-in-one model from the beginning.
The best LMS authoring tools are directly in modern LMSs, including Lessonly. Lessonly is easy to use, widely accessible, and one of the best LMS tools to use with Captivate. In searching for the best LMS, an all-in-one platform makes learning and training a more positive experience for employees and less of a headache for managers and leaders. The ability to create, distribute, and track content all in one place … what more could you ask for?
LMS LCMS comparison shouldn't take up too much time when comparing systems. Instead of agonizing over the differences between the two, know that Next Generation LMSs like Lessonly are revolutionizing the way modern companies learn and train.
LMS Vendors vs LMS Partners
LMS Vendors
Purchasing software from learning management system vendors introduces the gamble of buying from a company that simply wants your money but doesn't care about your experience with their product. Even the best LMS vendors can fall short in supporting their customers. When something goes wrong with the software and your internal team can't solve the glitch, you expect assistance. And when you have a question—any question—about how to maximize your team's investment in learning software, you should get answers.
You're not asking too much. Some traditional LMS vendors simply don't understand that, in the modern workplace, smart businesses are seeking more a transactional experience when investing in new tools and software. When doing an LMS vendors comparison, make sure to land with a company that's not just a vendor, but a partner.
LMS Partners
There's a big difference between a software vendor and a software partner. A software vendor sells a product without investing any time in understanding each customer's needs; a software partner actually cares about their customers and their customers' businesses.
We believe that the best LMS providers go above and beyond, doing much more than simply selling a product. At Lessonly, we partner with our customers to help drive more successful learning and training programs. By helping them use Lessonly to truly grow and develop their teams, we know we're helping to make a significant impact on their business. That's what we're all about.
Other folks think we're one of the best LMS companies, too. Check out this review from Andrew at FirstPerson Advisors:
"I absolutely love the customer service I receive as a Lessonly customer. Lessonly's Client Experience Managers are not only knowledgeable and accessible, but also enjoyable! In addition to customer service, Lessonly has developed a one-of-a-kind software. This LMS is different than any other because lessons are easy to create, assign, and take. Lessonly has created an experience with the learner in mind – so that meaningful learning really happens. Lessonly has helped our team at FirstPerson in significant ways!"
LMS Pricing
Platform Fees
Doing an LMS pricing comparison can be challenging. Different companies structure payments and pricing in different ways, and it can be difficult to know which pricing approach makes the most sense for your team. An LMS cost benefit analysis is crucial in making the right decision. The paragraphs and sections below analyze different types of pricing in the LMS market.
At Lessonly, we price our software through platform fees. Customers like this structure because it's straightforward and transparent. One of the main benefits of a platform pricing structure is you know exactly what you're paying, and what you're getting for that price. Plus, you have the option to upgrade at any time if your team grows and you need a more robust solution. This structure gives flexibility without the unpleasant surprise of unexpected costs or hidden fees.
When walking through your LMS cost comparison, consider that platform fees are a smart, foolproof way to invest in learning software for your team.
Per User Model
When it comes to LMS pricing, the per user model may not be the smartest approach, because LMS cost per user doesn't take into account many important business factors. For example, small teams often grow—and grow quickly. If a small team buys based on per user pricing, budgets might not scale with team growth, and they might not be able to afford the same platform at the larger team size. Soon, employees end up sharing accounts and cutting corners to access the lessons they need to do their jobs. When that happens, the software isn't used to its full capabilities, and no one gets the most out of their training. It's a lose/lose situation for everyone involved.
Even if some per user models claim to be the best affordable LMS, there's a good chance their pricing structure is not a scalable, sustainable way to invest in learning management software.
Custom
Regardless of where you are in your learning management system price comparison, we're always happy to provide curious inquirers with a custom quote. Spoiler alert—buying LMS software is not going to break the bank, let alone your quarterly budget. And when you factor in the ROI of better employee learning and training, like better performance, higher productivity, and lower turnover, a solid modern LMS will pay for itself very quickly.
And while running through your learning management system cost comparison, keep all the factors discussed on this page in mind. If you decide to try Lessonly, we believe you'll see that our software pulls together an unbeatable combination of features and benefits that you and your team will love.
Everyone deserves a chance to be great at what they do. Check out Lessonly today and see how.