Free Customer Service Survey Templates
Discover your customer's candid opinions of your team and company.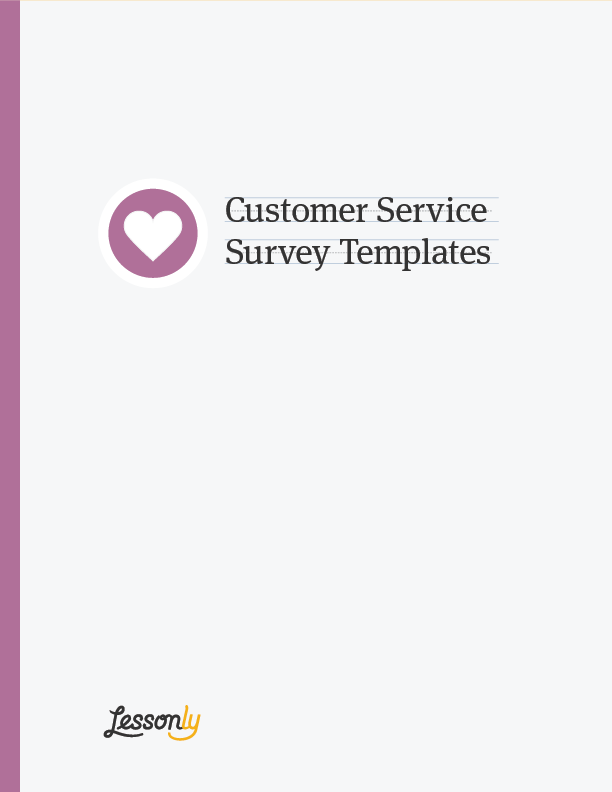 Powerful Training, Simplified
Join the hundreds of teams—from Fortune 100 enterprises to local businesses—who use Lessonly to onboard, train, and continuously enable millions of employees to learn, practice, and do better work.
Customer Satisfaction Survey
Think about it: if you don't know what people are saying about you, then how can you possibly address the issues you face? Quite simply, you can't, which is where a customer satisfaction survey comes in. Not only can it tell you whether or not your perfect customers are pleased with you, it can help you learn where to improve. In fact, a well-crafted customer service satisfaction survey practically does the work for you. Goodbye, costly consulting. Hello, satisfied customers and increased profits.
Well, you might be thinking, of course, it would be nice to have all that information, but how exactly do customer service surveys work? That's a great question. Believe it or not, a satisfaction survey is much simpler than you might think. It requires little more than targeting some questions that are essential to your company's performance (more on that later), putting them together in a way that makes sense (such as the template we offer in the download above), and making sure you survey frequently enough to get useful results.
Keep in mind that a customer satisfaction questionnaire can take many forms, such as a customer service survey or a guest satisfaction survey, so be sure to try different forms before you finalize your survey that you use over time.
Customer Satisfaction Survey Questions
To benefit from your survey, you need the right customer satisfaction survey questions. If you sell computers, for instance, it won't help you much to ask your customers "Why do you like computers?" You know why, or can at least guess. Slightly modifying your survey questions so they are specific to your business, however, is very useful: "Why do you like our products?" can tell you a lot about what you're doing right … or wrong, depending on the answer you get.
Good customer service survey questions target a range of subjects, including:
What customers consider a good or bad experience
What motivates them to purchase
What turns them off
What provides incentive to keep buying from or working with you
In order to provide the most insight, your client satisfaction survey questions should target all of these, either in every survey, or in various surveys that you send at different times.
Asking the right types of retail customer service survey questions, including multiple choice for quantitative data and open-ended for qualitative information, can help you cover the gamut of necessary information. Use customer service satisfaction survey questions to find out about the needs, the desires, and the psychology of your shoppers. Still need examples or assistance? Check out the customer satisfaction survey sample questions above!
Customer Satisfaction Survey Template
Whether you craft it on your own or borrow a professional template, such as the one we offer above, using a customer satisfaction survey template will save you time, money, and emotional energy. Let's consider how a customer service survey template can help you avoid wasting any of these resources.
First, time. You don't need us to tell you that working with a sample customer satisfaction survey is bound to make your life easier than creating one from scratch. With meaty customer satisfaction survey examples at your fingertips, you can avoid struggling to come up with the right types of questions on your own, wondering if you're "doing it right," conducting a lot of pointless Google searches, and generally fence-sitting when you could be spending your time more productively. A picture is worth a thousand words, but an example might be worth even more.
Second, customer survey examples save you money. On the one hand, when managers are freed from the time-consuming task of creating questions they could find in a template, they can turn their attention to other tasks. On the other, you avoid the possibility of sending out a disorganized or low-quality survey that might not get the results you need.
And last but not least, heartache. Nothing burns like spending a bunch of time carefully putting a survey together, only to discover that it doesn't actually target your needs. By using a sample customer service survey, on the other hand, you'll get the information you need right away with only a little tweaking. Plus, solid customer service survey examples can help you forge a consistent template of your own, which will help you compare apples to apples data on all customers, and that you can use again and again.
Customer Satisfaction Survey Best Practices
Although most surveys are bound to generate at least some useful information, by using survey design best practices, you can ensure you're utilizing the best ways to measure customer satisfaction. Customer satisfaction survey best practices cover a range of habits, among them, surveying routinely, tying survey results to revenue, and using different question types to elicit different kinds of information.
As we discussed above, for instance, you should split your questions between open-ended and multiple choice. The former really lets the customer express their opinion, potentially offering valuable insight you wouldn't have received with a multiple choice question set. Those multiple choice questions, on the other hand, are easy to quantify and can give you a big-picture look at what your customers as a whole think of you, which would be harder to get simply from open-ended queries.
Don't forget that different departments provide "customer service" to each other. Sending out a periodic internal customer satisfaction survey can help you figure out how to help teams work together more efficiently and communicate better, which benefits the company as a whole. Internal customer service survey questions may also help you identify shining stars among your teams, after which you can ask them how they work and apply their strategies to the rest of your company.
Remember that customer satisfaction surveys, both internal and external, exist only to help you succeed as a company. As such, it is in your best interest to perform them regularly, efficiently and dedicatedly. The template above can help get you started.
Customer Satisfaction Survey Form
In ye olden days, putting out a survey required a costly outlay of paper, stamps, and manpower (anyone remember stuffing envelopes till their fingers bled? No, us neither … ) Today, though, it's much easier to craft a great customer satisfaction survey form on the fly. By using modern survey and form software providers, such as Survey Monkey, Formstack or Gravity Forms, you can get your questions to your customers quickly, easily and without a huge payout. Plus, your answers roll in faster and collate automatically, reducing the workload required to make sense of all that data. What's not to like?