Free Summaries of the Best Sales Books
Expert advice and summaries of the best sales books.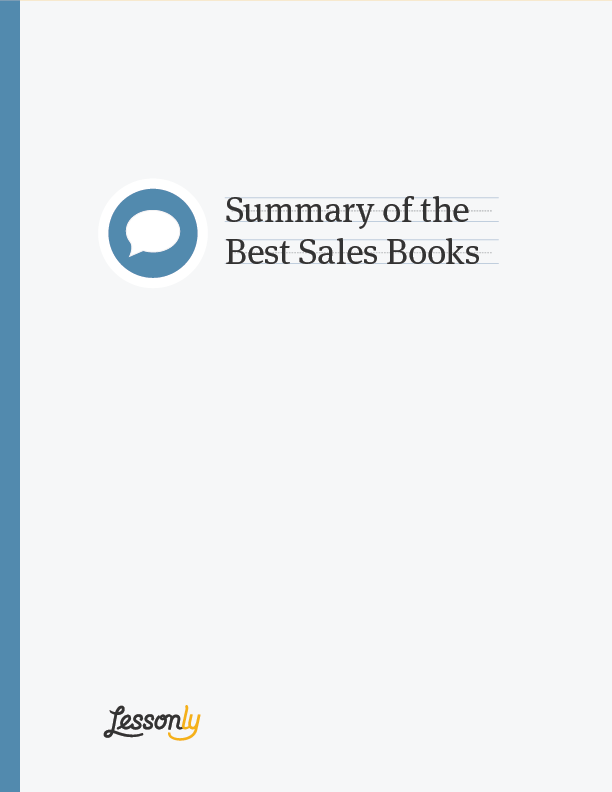 Powerful training, simplified
Join the hundreds of teams—from Fortune 100 enterprises to local businesses—who use Lessonly to onboard, train, and continuously enable millions of employees to learn, practice, and do better work.
Best Sales Books
It's not necessarily easy to go out and start killing it on the sales floor or in homes and offices day one. It may take serious education and practice to learn to relate properly, strike the right tone, understand people's needs and become truly successful at sales. That's why we've put together this page of the best sales books so that you can learn from the experts.
The top sales books take different approaches, but they have one thing in common: their purpose is to help you become a better salesperson quickly. The best sales books of all time share the tricks of the trade in understandable, easily digestible ways, which is why they're the best-selling sales books. Taking a look at the top 10 sales books is a great way to grow, which is why we've provided a free downloadable resource including overviews of the top five. We hope you get as much out of these books as we did.
Best Sales Management Books
Sales managers have a lot on their plate. Most managers can't just learn to sell better and call it good; they also need to learn to manage their teams better and better. If you're in this boat, you will benefit from studying the top 10 sales management books.
The best sales management books provide practical tips for coaching your team in helpful sales techniques aligned to your industry and goals. They also cover how to determine what your sales goals should be, how to motivate employees, how to strategically plan and market your products to create the best environment in which to successfully meet your goals, and more. To be successful at selling, you as a manager must learn how to measure performance along the way and recognize critical indicators that can tell you whether or not you're getting the job done.
Perhaps you got into sales because you were good at it, or liked it, or enjoyed helping people get what they needed. Being a sales manager is all about teaching, conveying these values to the people under you, so the best sales management books will help you pass on these loves to your team.
Best Sales Training Books
Sales is not a one-and-done industry. Rather, in order to be successful at sales, you must continually grow and meet the demands of a changing world. If you're looking out for a sales team, your best bet to remain efficient and effective is to continually provide top-of-the-line training to your team.
The downloadable resource above highlights the best sales training books in the field today, with real stories and actionable tips to help bring sales into the real-world spotlight. Training materials are often dry or boring, which is why you need to mix things up if you want to remain on the cutting edge of your industry.
Providing training materials sourced from the experts will inspire your workers, motivate them to greater efforts and ensure that your sales goals get met this week, this quarter, this year and beyond. Instead of a bored or disconnected sales force, you'll hone a well-prepared sales dynamo that will blow the competition away, consistently exceed expectations, and put the people you serve first.
Best Sales Books for Entrepreneurs
Not on a sales team? Perhaps you are an entrepreneur who operates as a one-man show. While this can be liberating, allowing you to take on whichever clients you like and freeing you from the constraints of a structured workplace, entrepreneurship also presents many of its own challenges.
For one thing, you don't have preset sales goals to work toward, but must set them yourself. For another, you don't have an organizational engine behind you, sourcing leads and pointing you toward great opportunities. You also don't have a trusted name you can leverage to get in the door, but must make that name on your own. Intimidated yet? Don't be. The best sales books for entrepreneurs can really help.
Because selling is different when you're working on your own, you will benefit mightily from reading books that speak specifically to what you are doing. How to set up your business, where to find clients, how to talk to them and close the deal, how to stay in touch – these are all crucial skills that will look different for an entrepreneur than for a sales team, so pick up these books and get learning.
Best Sales Process Books
When learning sales, it is important to break the sales process down into manageable steps. Unfortunately, you don't just walk into the room with a prospect and walk out a minute later with a deal. Instead, you have to tread intentionally every step of the way. Of course, we're not implying that sales is a ticking time bomb just waiting to go off. It isn't. What we mean is that sourcing deals looks different from closing deals which looks different from renewing deals.
At each stage, the way you approach your clients or prospects will depend on your goal for that stage. When sourcing prospects, for instance, you need to make yourself look professional, reliable, and like a good expenditure of time for that prospect. The best sourcing deals books can help you do that. Before you can close, you must convince the potential client that you and you alone have the best solution to their problem, which the best closing books go into in great detail.
And before your clients will sign on with you again, or even take things a step further, you must convince them the competition can't do it better. Check out the best upselling / renewing books for this, and you'll learn some great tips that help you take your game to the next level.