What is the best LMS system?
If you're asking this question, you're likely on the hunt for a better way to train your team. The typical learning management system definition is "a software application for the administration, documentation, tracking, reporting, automation and delivery of educational courses, training programs, or learning and development programs." Many systems you'll find will satisfy these criteria, so it can feel daunting to make a choice.
Does anyone else feel like this when you're trying to buy software?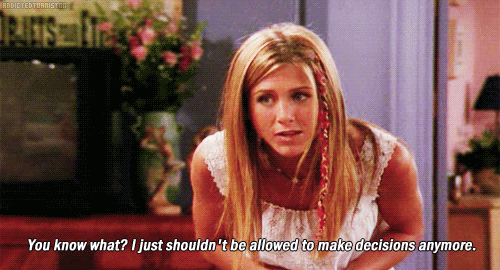 But remember: The best learning management system is one you'll use.
The Backstory
I've always wanted to be more disciplined from a fitness perspective. It's been a lifetime goal and a New Year's resolution time and time again. Mark Wahlberg's 2:30 am wake-up time and two-a-day workout schedule appeals to me because of the sheer mental fortitude it demonstrates, but it's so far from the way my body naturally wants to exist that it feels impossibly aspirational. 
My older brother, Shaun, is a Psychologist and Health Coach, and thus he is my sounding board for any and all health-related ideas. A while ago, I confessed to him that I love cycling, and I hate lifting weights (even though I'm "supposed to"). I told him "I just don't want to make myself lift anymore." I felt guilty about it—like I was betraying some kind of invisible requirement of being "healthy," but to my surprise, instead of telling me how imbalanced my routine was, or suggesting I force myself, my brother said, "the best exercise regimen is the one you'll do." 
If you'll use it, it's worth it.
Like a workout or health regimen, or really anything meant to improve your life, the best learning management system is one you'll use. For a system to be useful (properly adopted), there are a few things you'll want to look for. This list is by no means exhaustive, but if you can think of these questions as you embark on your search, you may find yourself a solution that feels as great to you as my morning cycling routine.  
1. Am I purchasing a
learning management system (LMS) software
, or am I investing in a partnership?
Partnership, to take our fitness analogy perhaps a step too far, is like having an accountability buddy. Why is going to the gym so much more enjoyable when you have a friend? Because it feels good to share our successes and our tribulations. That "in this together" feeling can be energizing and inspiring, and having someone (like your Account Manager at Lessonly) check in with you, give you kudos, and even spot you when you try something new (I might have officially gone too far), gives you the support you need to ensure your initiative is a success. At Lessonly, our mission of "helping people Do Better Work so they can live better lives" starts with partnership, and results in adoption. A system can only improve lives if it is used.
2. Will this
learning management system
fit my team like a glove? 
There are many learning management system examples out there, and many of them are great. But are they all great for your team? This is where the Mark Wahlberg analogy comes back into play. Stay with me. 
If I were to adopt Mark Wahlberg's fitness routine, would it fit? Could I maintain it? My propensity toward snoozing my alarm clock 3x's daily and lack of a home cryotherapy recovery chamber tells me that it probably would not. This is where understanding the needs of your team becomes so important. It can be difficult as a procurer of learning systems to embody the mind of your sales team—so instead of attempting the improbable, try asking them to share how they learn, and what they want to learn. That way, when you're perusing your learning management systems list, you can narrow your search to include only solutions that are purpose-built for teams like yours.
3. Is my potential partner focused on outcomes? 
If you Google "learning management system," you're going to have to sift through your options. As you create a learning management system comparison, I'd urge you to think critically about the outcomes you want to drive, and find a partner that will do the same. If you design a curriculum with the end result in mind, and find a solution that has been created in a similar way, you'll arrive at a partnership that will fortify your team. Your LMS partner should be the workout buddy you've always dreamed of. One that's going to hold you accountable to your goals, push themself right alongside you, and celebrate your wins with you. You deserve it. 
For more information on how Lessonly can help your team, feel free to peruse this learning management system pdf where we break down the 5 most important things you should know about Lessonly. 
Ready to learn more about virtual training?
We're ready for that, too. Click on any of the tiles below to learn how Lessonly helps remote and in-person frontline teams around the world learn, practice, and perform! Hear from our teammates, Karlie and Ben, about how we help teams align and thrive.