Leveraging an e-learning platform for a tech-savvy generation can be daunting, no matter how good you think you are. But have no fear—we've got five tips to help you jump the hurdles.
What is a digital native?
A digital native is someone that has grown up with technology as a part of their life. They may not know how to use an old fashioned phone or recognize the screech of a dial-up internet connection, but they put most of us to shame when it comes to adopting and engaging with modern technology.
Their lives are 'technology-first', with 41% saying they would rather communicate electronically than face-to-face or over the telephone.
Gen Z (born in 1996 or later) are true Digital Natives. It was revealed that more than half of this group say they learn best by doing, while only one in 10 say they learn best by listening. Traditional passive learning doesn't work for this generation, so we turn to 'e-learning' which allows for engagement, interaction, and access—anywhere, anytime.
Here's how you can tailor your approach to learning to ensure it appeals to digital natives everywhere:
Make it social
Digital Natives are the biggest users of social media. 44% of them check their social media profiles hourly. We know that Gen Z favors Instagram, Snapchat and Youtube, so as trainers, it's on us to harness that information and build our learning programs accordingly.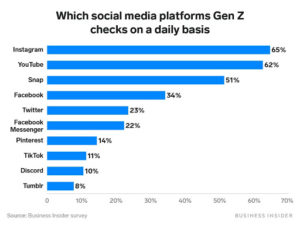 Social media has always played some role in a digital native's life, so it's a natural step to integrate it into their learning experiences, too.
Our suggestion? Utilize social media to add to the teaching and learning strategy. Embed Youtube videos or a relevant Twitter stream directly into your course pages. Link to excellent resources and advice you've seen on LinkedIn.
Encourage your learners to engage with each other about the course using social media by creating a Facebook group to allow for discussion around topics or assessments. A great example of this is the HubSpot Certified Public Group, which was created to support and bring together people completing one of Hubspot's certification programs.
You could also incorporate some additional interaction with a Facebook contest. This is a great way for the learners to get to know each other, and share what they've been doing with their lessons. A little healthy competition never hurt anyone.
Make it easy
 A 2018 study discovered that an average of 67.5% of Gen Z feel "very tense or uneasy" during moments when their digital devices are not working correctly. Their expectations of how an online platform or website performs are probably higher than most; They just expect it to work, and work well.
In addition to ensuring your learning program functions seamlessly, a smooth and clear onboarding experience is essential in making sure a digital native sticks around. If a website is unclear, or too complicated to navigate, you risk losing their interest. 
Using visual content, such as videos, images or infographics can make the learning process easier, too. Whether you are a visual learner or not, breaking up chunks of text makes it easier to digest.
Accessibility is important, too. Digital natives use their smartphones at least 3 hours a day and favor them over any other device. It's essential that your learning platform is not just available on mobile, but is truly optimized for a mobile experience.
Make it fun
"47% of Gen Z like to use interactive learning apps or games to learn"
'Gamification' (the process of taking existing content and adding gaming mechanisms to it) has risen in popularity over recent years, and it appeals to our dwindling attention spans. The use of gamification online entertains us and provides us with instant gratification. 
If you've been online, you've probably done a quiz or played a mini-game on social media or a website. This concept is now permeating all industries and verticals, including certain platforms in the edTech space.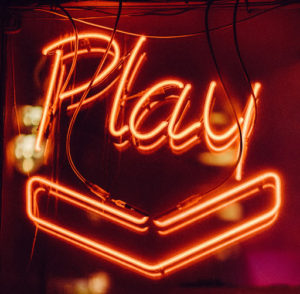 Gamification in learning is nothing new. Flip cards and tests have been around forever, but what's new is the technology people leverage to add gamified elements to their training and learning.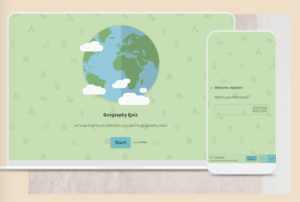 Online quizzes are a great way to help teams retain and test their knowledge. We recommend using interactive quizzes to test your learners and keep them interested, and help them self-assess as they move through the course. In fact, in Lessonly, we built a quiz feature right into our product!
Quizzes and surveys can also be used effectively for feedback. Digital natives are a generation of 'sharers' and they want to feel as though their opinions are listened to and valued. Give them the opportunity to share their thoughts on the course, or the material, right in the learning program.
Make it meaningful
Digital Natives don't want to just tick boxes. Using their time wisely to learn new skills and improve their knowledge is important to them. Add a real purpose to your learning program, and remember to remind your learners of the end goal throughout to keep them engaged.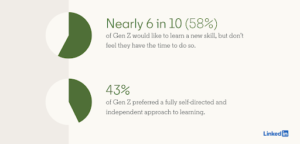 As the infographic shows, it's not just the drive to learn new skills that motivates this group. 43% said they prefer a "fully self-directed and independent approach to learning." Your learning program should be built to allow learners to pick up where they left off and move forward at their own pace.
Provide easy break-points during a learning path, with identifiable milestones to make a self-directed learning approach more obtainable.
Make it personal
Last but not least, the best learning programs are personal. Digital natives are used to their content being personalized to them. Google and Facebook algorithms have matured and developed with them. Their website experiences have become more and more tailored to their interests. It's not surprising then, that they expect a level of personalization with their online training software, too.
In fact, 32% of Gen Z would stop visiting a website if it didn't anticipate what they needed, liked, or wanted.
Incorporate a personal approach into your learning program from the outset by using quizzes or tests to help your learners create a path specific to suit their needs.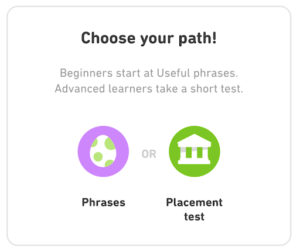 A good example of this is Duolingo, who offer a short 'placement test' at the start of each of their courses to give learners an idea of their knowledge level and where they can grow. From there, they can see their upcoming milestones and assessment opportunities.
So, when creating your learning program, remember:
Integrate social media experiences into your course design.

Don't overcomplicate it—provide an easy, intuitive path for learning.

Make sure it's engaging and fun!

Remind learners of the end goal and give them freedom so they stay motivated. 

Personalization goes a long way with digital natives.
Thanks for reading!
Build thoughtful training for digital natives with Lessonly
We help companies and managers quickly transform knowledge into shareable lessons and resources, engage employees through interactive feedback loops, accelerate rep and team performance, and measure the impact of better learning across their organizations. Explore our features today or click on a tile below that interests you!