This three-part series explores the essential components of building a blended learning program at work. Part 1 considers the merits of centralizing training in an online learning management system. Part 2 discusses how to implement instructor-led training, or live training, into a blended learning program. And finally, Part 3 investigates the merits and demerits of social learning. Our goal? To help you and your team learn more effectively, practice essential skills, and Do Better Work. Let's dive in!
Think back to your time in school. How did you best learn?
Some of us prefer reading a textbook, while others enjoy lectures. Still others appreciate interactive learning experiences, while some like to sit with flashcards and memorize every detail. Each of those experiences helps us retain and process information. Perhaps you've seen this chart before: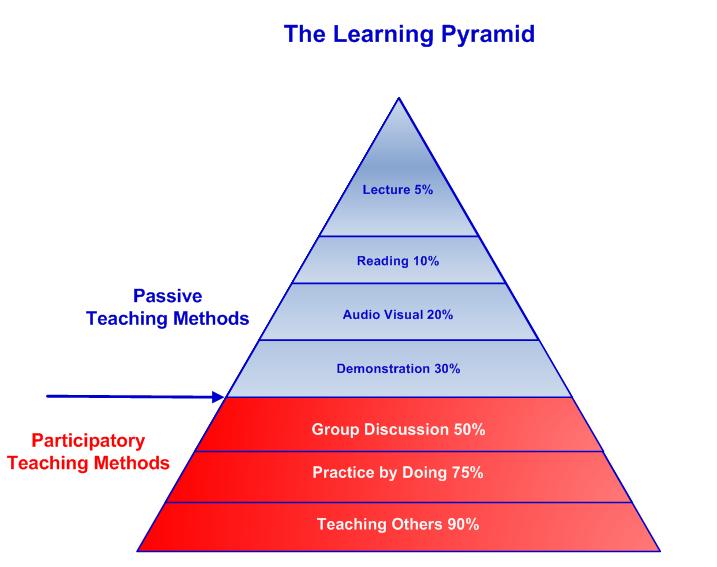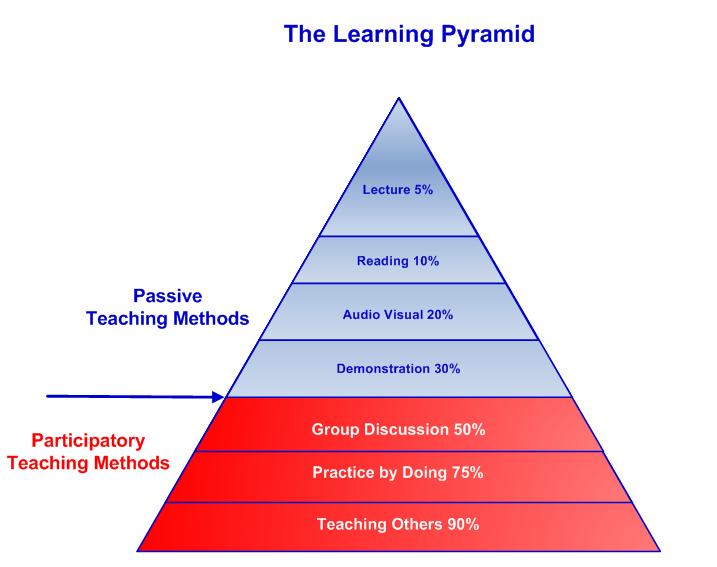 While the sentiment of The Learning Pyramid holds some value, research shows that the verdict is still out on exactly how different learning styles impact knowledge retention. There is no one-size-fits-all solution for learning: we all learn differently. What's more—learning happens everywhere. That's why blended learning has become the new standard for forward-thinking businesses.
What is blended learning? It's a strategy of instructional design where traditional classroom instruction is replaced or augmented by other learning opportunities—including online training content, practice scenarios, audio/visual engagement, social learning, and more. In this series, we'll discuss the role of online learning, instructor-led training, and social learning in building corporate training programs.
Online learning is the engine that supercharges blended learning. With a thoughtfully built learning management system (LMS), businesses can offer a wide variety of training experiences to employees across the globe. Here are just a few examples of how online learning is powering blended learning:
U.S. Cellular is replacing thousands of pages of required reading with more concise web-based lessons.
Trunk Club delivers engaging product updates and quizzes to make sure every rep is up-to-date and on the same page.
Other call centers and sales teams across the country are creating practice scenarios in Lessonly that help teammates hone their video, demo, chat, ticket, and email skills.
For many businesses, learning has traditionally taken place in-person—through seminars, binders, and more. And while getting face-to-face is still an important piece of learning and retention, an LMS platform like Lessonly should be the central hub that brings real-world and digital learning together in one place. So if your team holds in-person training, managers and trainers should have access to a real-time, cloud-based record of that training—along with integrated analytics and automated follow-ups. This is the future of blended learning in a corporate setting—and a forward-thinking online learning management software makes it possible.
Non-negotiables for online learning
In addition to bringing together offline and online learning, the best online training management systems also:
Prioritize speed over fidelity—The business world moves fast. It shouldn't take weeks or months to create training or enablement. By that time, the information will be out of date or less helpful. Instead, look for a system that makes creating learning simple for anyone. When everyone is empowered to build and share learning, that means training can come from the entire team, not just an HR or L&D team. When frontline employees are building and sharing training that helps the rest of the team succeed, that's when performance can skyrocket.
Prioritize access over mastery—When we get in our cars, head to work, scroll social media, and watch TV, we have thousands of messages thrown at us everyday. It's impossible to remember them all. Information learned at work is no different. Very few employees can consume online learning and retain all the details about a policy or how a product works. When selecting a learning management software, choose a solution that simplifies searching for information—rather than expecting employees to remember everything. At Lessonly, we do this through our powerful search bar and intelligent content recommendations via Chrome. No matter how you choose to do it, find a way to give employees fast access to the information they need, so they can deliver results when it matters most.
Prioritize analytics over dogma—The phrase "data-driven" is in the lexicon of almost every modern business. We're always looking for hard-and-fast, numerical facts that can improve our marketing, sales, call centers, and more. Why not apply the same concept to our learning programs? Measuring engagement, satisfaction, and most of all, impact on performance, are essential components of a great online learning platform.
Training often gets a bad rap for being boring, unengaging, and unhelpful. We're on a mission to change that—learning at work shouldn't suck. In fact, we're convinced that online learning is the silver bullet for greater employee engagement, more revenue, and happier customers. Blended learning is the way of the future, and a great LMS is the first step to better work.
Read parts two and three of this series for more thoughts on blended learning!
Do Better Work with Lessonly's learning management software
Lessonly is powerfully simple training software that helps teams learn, practice, and perform like never before. Propel employees toward success with effective onboarding and ongoing training. Learn more and demo Lessonly today.