Improves Sales and Support Performance with More Effective Onboarding
"With Lessonly, we're starting to tie training directly to results. I can show my bosses directly how my work is raising performance on the floor. That shortens those meetings considerably."
—Jimmy Miller
Director of Training & Development,
OutboundEngine
As a leading provider of marketing automation software, OutboundEngine empowers business owners to keep their customers—and generate new ones—effortlessly. With more than 10,000 business customers and an ever-changing industry, OutboundEngine needed a better way to deliver effective onboarding at scale.
For years, incoming OutboundEngine employees were given a new-hire binder, paired with a little one-on-one instruction. Jimmy Miller, Director of Training & Development shared, "A lot of what our training used to look like would be putting people in a room, having an expert come in and essentially talk at them for a while. That's not a great experience, and it's a terrible way for people to learn."
The team recognized that onboarding and training this way wasn't working; it was inefficient, inconsistent, and failed to properly equip new hires with everything they needed to know. The company also wanted a better way to measure employee and training success.
With a focus on increased employee engagement and performance, OutboundEngine looked for a solution that would deliver a hands-on onboarding experience to sales and support reps so they were prepared for success on day one. Jimmy added, "The idea was to see how we can make sure people are learning the best way possible."
"We need to make sure that, by the time new hires get on the floor, they're confident with the UI and UX of everything they're going to use. Creating an environment for them to practice safely in, while also being able to monitor them, is everything for how we onboard people."
—Jimmy Miller, Director of Training & Development, OutboundEngine

Jimmy continued, "We needed to make sure that, by the time [new reps] got on the floor, they were confident with the UI and UX of everything they're going to use." He and his team found it simple to build robust but consumable training programs for OutboundEngine's sales and customer service teams via Lessonly, stating "a lot of what we did was move training from lectures to something that is hands-on, so that it's most accurately mimicking the experience of doing the job."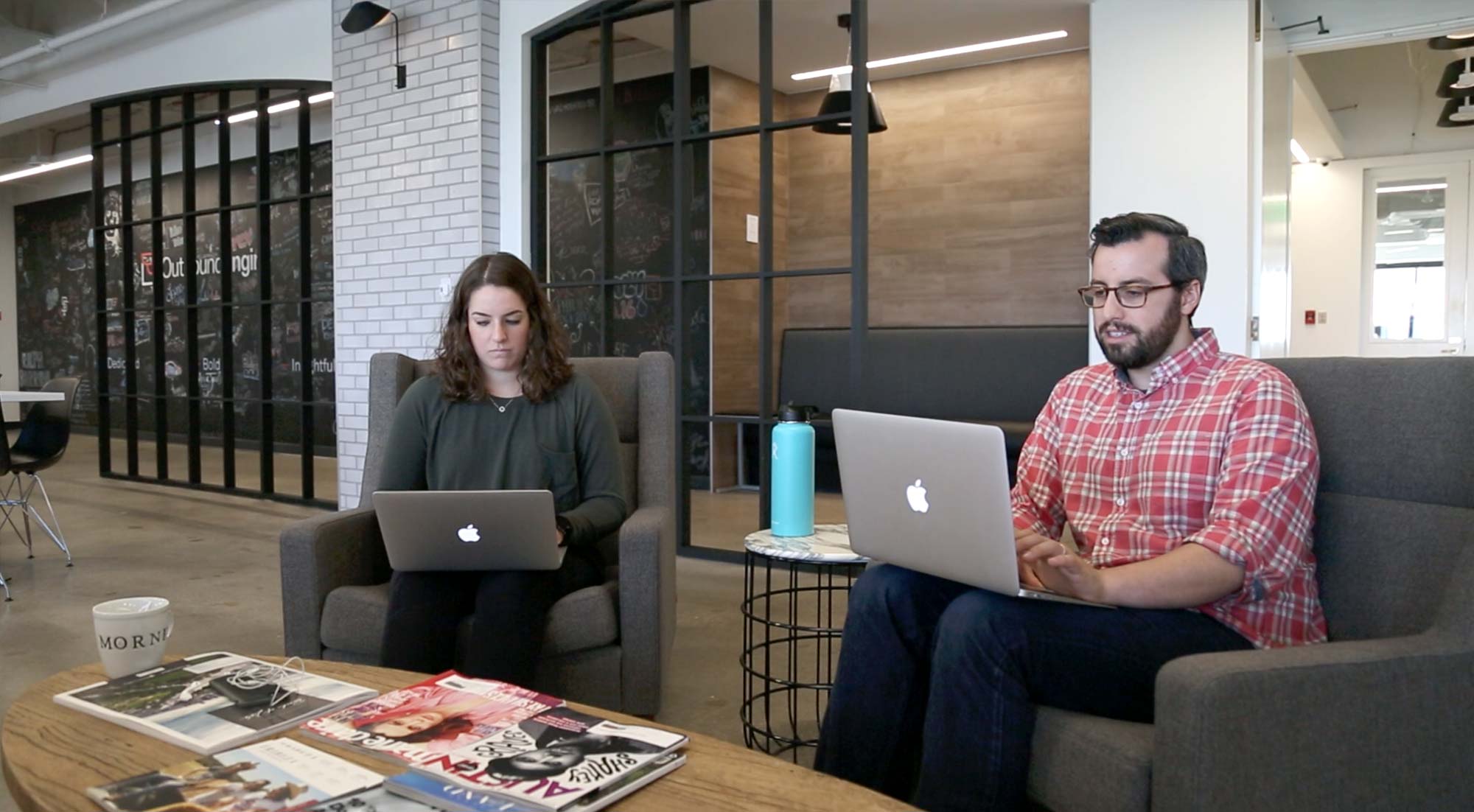 The OutboundEngine team quickly moved away from bulky binders and lectures and instead focused on empowering employees to problem-solve and master key skills. Now, incoming team members walk through practice tasks and scenarios in programs like Salesforce and Zendesk that are monitored by trainers. This gives them the opportunity to work directly in the applications that are important to their role in a safe environment that is perfect for learning. And from an ongoing training perspective, Lessonly helps the OutboundEngine team move at speed of business by quickly pushing out important industry information and updates.
Jimmy noted that Lessonly's intuitive and friendly software made it easy for him and other subject-matter experts to create, share, and update lessons on a continuous basis. Once the team identifies a need for new or updated training, they can create, approve, and complete a lesson in just 48 hours. "What Lessonly has done for us is make it as pain-free as possible," Jimmy commented.
"Historically, it's been difficult to quantify the impact that training and development has on the business at large. What Lessonly allows me to do is to integrate [training] with our software, so that as we monitor employee performance, I can tie that back into how I'm teaching, how I'm training."
—Jimmy Miller, Director of Training & Development, OutboundEngine
In addition to decreasing rep ramp time and providing hands-on training, OutboundEngine has also been able to test the efficacy of their training and track performance. This means the team can be smarter about what training is assigned to specific people. Jimmy explained, "It used to be that we thought certain people needed certain lessons on processes maybe once a quarter or every half a year. Lessonly has allowed us to nail down not just an area or time period of when we should be sending out recurrent lesson paths."

OutboundEngine isn't stopping there—they're also evaluating and tracking the effectiveness of the training itself. By integrating Lessonly with the rest of their systems, OutboundEngine can tie training directly to their sales and support results. "I can go into a meeting with my bosses and show them directly how my work is raising the performance on the floor," Jimmy shared.
In addition to overhauling their training efforts, Lessonly has become a valuable partner for Jimmy and the wider OutboundEngine team. From attending Lessonly's Yellowship Conference, to co-hosting industry events in Austin, Jimmy noted the Lessonly and OutboundEngine teams enjoy much more than a mere vendor/client relationship.
Jimmy concluded, "Working with Karlie at Lessonly has been extremely helpful. And as someone who is often being sold new toys, it's refreshing to work with someone who cares more about our success than buying every last little trinket. She treats us as more than just one other account. And so for that, we're very thankful."